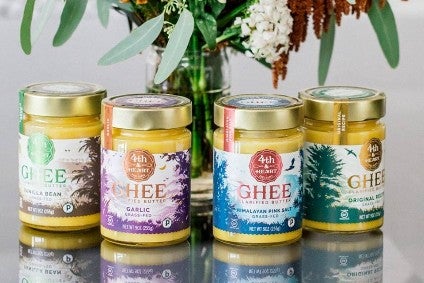 4th & Heart, the US-based producer of flavoured ghee products, has secured US$7.6m in funding from a consortium of investors for product innovation and to expand distribution.
The Series C investment round was headed by Harbinger Ventures, which focuses on female-led start-ups. Other participants included Cambridge Companies SPG, Blueberry Ventures, Boulder Food Group, Monogram Capital Partners, Finn Capital Partners, and Everplus Capital. 
4th & Heart, based in Venice, California, was founded by Raquel Tavares in 2015. The company is about to expand its distribution through Target, including the retailer's SuperTarget and PFresh nationwide stores in September. It already has listings in Whole Foods, Sprouts, Kroger and Gelson's, along with online retailer Amazon.
Tavares, who is also chief executive, said: "We are thrilled to have found such an influential group of partners that share our passion and align with the mission of 4th & Heart. Our work with Harbinger Ventures and our other investors will help to grow our brand and innovate new products for the growing audience of health-conscious consumers attracted to flavourful better-for-you alternative cooking essentials and snacks." 
The company's portfolio includes ghee butter spreads, oils and chocolate spreads. It is about to launch Woke, grass-fed collagen ghee protein and energy bars.