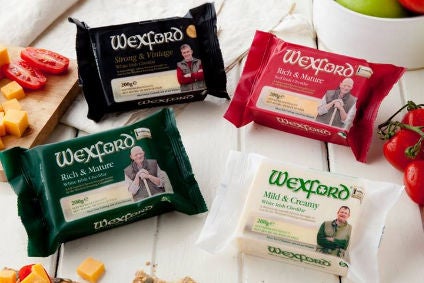 Glanbia Ingredients Ireland is looking to expand a cheese plant to support the growth of its Wexford cheese brand.
The company, in which Ireland-based dairy and ingredients group Glanbia plc owns a 40% stake, is to seek planning permission for a project that will double the site's peak milk production capacity. It said it hopes for a decision on the planning permission to be made by the third quarter of the year.
"This proposed investment is a tremendous vote of confidence in the staff at our Wexford plant, which produced record volumes of cheese in 2015. Our milk suppliers in Wexford are amongst the fastest growing and most progressive in the Glanbia catchment area. This investment will also enable further growth in our highly popular Wexford Cheese brand, which is being marketed in Ireland, the UK, the US and, most recently, the Middle East," Jim Bergin, chief executive of Glanbia Ingredients Ireland, said.
The project, if approved, will enable the plant to produce whey for manufacturers of sports nutrition products.
Glanbia Ingredients Ireland snapped up Wexford Creamery in 2014 after announcing the deal in December of the year before.
The other 60% of the venture is owned by Glanbia Co-operative Society Limited, the co-operative that is the largest shareholder in Glanbia plc.