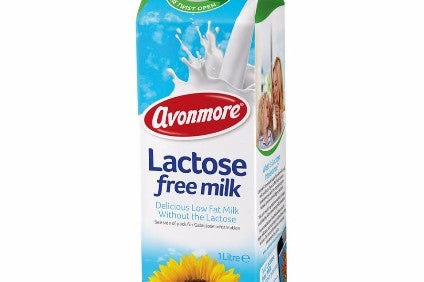 Ireland-based food group Glanbia has moved a step closer to selling a 60% stake in its domestic dairy products business.
Glanbia said today (26 April) it had "signed binding legal agreements" for the sale of the majority stake in its Dairy Ireland division to the Glanbia Co-operative Society, the company's largest shareholder.
The group had announced in February the two sides had penned a memorandum of understanding on the transaction.
"This strategic initiative remains on track to be completed by mid-year," Glanbia MD Siobhan Talbot said.
Under the terms of the transaction, Dairy Ireland, will be combined with Glanbia Ingredients Ireland DAC, a venture Glanbia plc and the Glanbia Co-operative Society set up in 2012. Glanbia plc will own a 40% stake in the new, enlarged business, which will be known as Glanbia Ireland.
Talbot said: "This will bring together Glanbia Group's Irish dairy and agri-businesses under single ownership and will enable Glanbia to continue to focus on its two growth platforms of Glanbia Performance Nutrition and Glanbia Nutritionals."
Dairy Ireland accounted for just over 10.1% of Glanbia plc's wholly-owned EBITA in 2016. Its consumer-facing business supplies branded dairy products, including Avonmore, to the Irish market, as well as exporting long-life dairy products.
A second, agribusiness unit supplies inputs to the Irish agriculture sector, including grain and animal feed.
During 2016, Dairy Ireland saw its sales fall 2.7% to EUR616.2m. In contrast, Glanbia's performance nutrition unit increased revenue by 9.4%, to EUR1bn, while sales from its nutritionals arm increased by 0.5% to EUR1.2bn. On a group-wide basis, Glanbia said sales rose to EUR2.85bn, compared to EUR2.77bn in 2015.