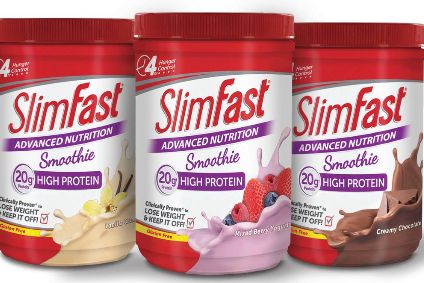 Ireland-based dairy and sports nutrition group Glanbia has agreed to buy SlimFast for US$350m from owners KSF Holdings and HNS Intermediate Corp.
Headquartered in Palm Beach Gardens, Florida, SlimFast counts the US as its largest market and claims to be the number one meal-replacement brand in the UK covering the health and wellness sector. The company generated net sales of $212m in 2017, but delivered a net loss before tax of $12m after "non-recurring supply chain transition costs".
The deal is expected to close before the end of the year subject to regulatory approvals. Glanbia said in a statement today (11 October) that it will fund the transaction via existing banking facilities, with the purchase to be accretive to earnings per share from 2019.
SlimFast's brands include Healthy Delights and Nu-Therapy, as well as a new Advanced Nutrition range of high-protein, high-fibre, gluten-free meal-replacement shakes and smoothies. It also produces a range of Keto shakes, meal bars and snacks.
Siobhán Talbot, group managing director of Glanbia, said: "I am pleased to announce that we have agreed to acquire SlimFast, a leading consumer brand in the $8bn weight management nutrition market, an adjacency to the Glanbia Performance Nutrition brand portfolio. It plays to global consumer trends focused on convenient formats and snacking."
Last year, SlimFast booked $24m in adjusted EBITDA before non-recurring costs. Its gross assets amounted to $136m.
KSF Holdings is an affiliate of US-based private-equity fund Kainos Capital, which acquired SlimFast from Anglo-Dutch consumer goods giant Unilever in 2014.
Andrew Rosen, a managing partner of Kainos, said: "Our acquisition of SlimFast came with no employees or systems. Behind the leadership of CEO Chris Tisi, who we partnered with when we invested in his company HNS in 2014, we quickly built a 60-plus person team in the US and the UK. This team, combined with our own internal resources, did a great job revitalising what was an orphan brand within a large multinational company. SlimFast is positioned to continue its great success as a part of Glanbia."
Martin Deboo, an analyst at Jefferies International, said the purchase price equates to an entry multiple of 1.7 times sales and 14.6 times EBITDA, which puts the deal at the lower-end of recent US transactions in health and wellness.
He added that the acquisition should enable Glanbia to build a "more diversified health and wellness business beyond protein-based performance nutrition".
Peering into the numbers based on SlimFast's EBIT of around $20m, Glanbia's tax rate and cost of net debt of about 4%, Deboo sees the transaction as being roughly 2% accretive to EPS on a full-year, pro-forma basis. EBIT margins of approximately 10% "feel low for a US food brand, so Glanbia should have decent potential to unlock cost synergies", he added.
Deboo went on to say: "Those with long memories will recall Unilever's acquisition of SlimFast in 2000, its history of subsequent writedowns and its ultimate sale by Unilever to Kainos Capital in 2014. What was different then was that Unilever paid nearly 4x sales (according to contemporary press reports) for a business that was about to be blindsided by the Atkins diet. Now SlimFast has around a third of the sales that it did then and has diversified its heritage local proposition into protein, energy and ketogenic nutrition."