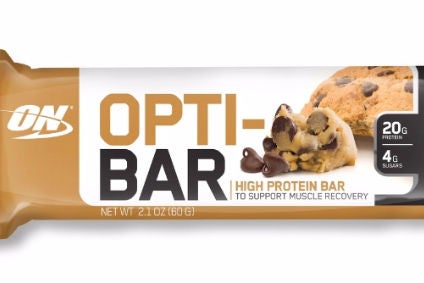 Optimum Nutrition, the US-based sports nutrition business owned by Glanbia, has launched a range of protein bars in its domestic market.
The company said it had developed the Opti-Bar range to meet demand for convenient products.
"Optimum Nutrition hasn't been in the bar space in some time," Stuart Heflin, director of North American marketing for Optimum Nutrition, told just-food. "As a brand, we are constantly innovating to meet athletes' needs and our evolving product line reflects that commitment. We are determined to bring the best formulas and flavour profiles to our athletes. "Our athletes are looking for portability and convenience in sports nutrition. A lot of our recent product innovation, including new ready-to-drink offerings, has addressed this need. Bars are a very popular option for pre- or post-workout, or as snacks and we wanted the millions of consumers who are loyal to Optimum Nutrition to have the option of a great tasting, high-quality bar from their most-trusted sports nutrition brand."
The 60g gram bars contain 20 grams of protein, with Optimum Nutrition emphasising the ingredient comes from milk protein isolate and whey protein isolate. The company also underlined the bars contain three to five grams of sugar; companies that have launched products packed with protein can attempt to mask the taste of protein with sugar.
The bars come in five flavours including cookies 'n cream, white chocolate raspberry and cinnamon pecan roll. Heflin said the bars are "sold at most places that carry Optimum Nutrition products", including sports nutrition retailers like GNC and Vitamin Shoppe, gyms, as well as online at bodybuilding.com and amazon.com.