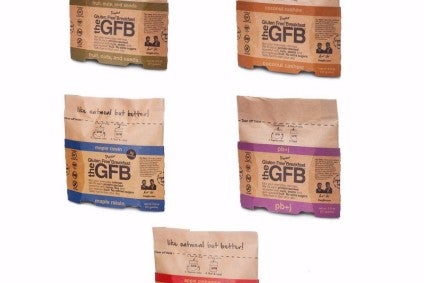 US firm Gluten Free Bar is launching a better-for-you oatmeal breakfast food line with no added sugar.
The Power Breakfast snacks from the Michigan-based company are said to be high in protein and have a mix of sun-ripened fruit, nuts and seeds. They come in five varieties: coconut cashew, fruits, nuts and seeds, PB+J, apple cinnamon and maple raisin.
GFB's products are non-genetically modified, and free from soy, dairy and gluten. They are also suitable for vegans.
Power Breakfast can be heated in 90 seconds by removing the lid and filling with hot water. The packaging folds down for easy carrying and then pops up into a bowl.
"We are stepping outside of the box with this packaging and we think this brings some sorely needed innovation to the oatmeal category," said Elliott Rader, co-founder and partner at GFB, which was established in 2010.
"We wanted to provide our consumers with a healthy breakfast option without compromising on taste or convenience."