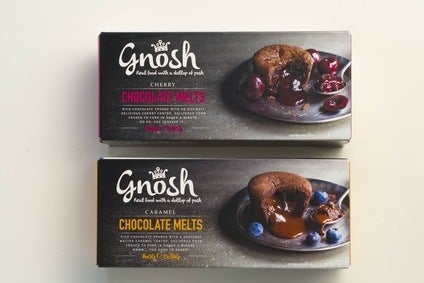 UK dips-to-tapas business, G'Nosh, acquired last month by local food group Winterbotham Darby, has announced its entry into the frozen desserts category.?
The brand is launching two frozen chocolate puddings into UK supermarket Waitrose, playing into the "extensive shelf life" of frozen compared to chilled products.
"Supermarkets are championing frozen as it reduces waste and saves consumers time. Ice cream is no longer the only indulgence that you can conveniently keep in the freezer," a statement announcing the launch read.
A spokesperson for G'Nosh told just-food the products were "not exclusive" to Waitrose.
"We would love for the desserts to be stocked in other retailers including the Big Four," she said. However, the spokesperson would not disclose whether it was in talks to be stocked in any of the mainstream UK retailers.
G'Nosh was acquired by Winterbotham Darby last month. Winterbotham Darby said it would look to help G'Nosh "grow beyond the core range of award-winning dips that have developed a loyal following over the last three years".