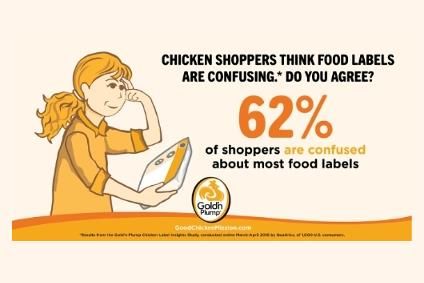 The majority of American consumers (62%) are confused by food labelling, with more than half (55%) feeling overwhelmed when trying to understand food product labels while grocery shopping.

This is according to leading midwest chicken processor GNP Company, whose flagship brand Gold'n Plump is now produced with no antibiotics, and the assurance of the American Humane Certified farm programme seal.

However, as demand for these attributes grows, so has confusion about what these claims actually mean, according to the findings of the Gold'n Plump Chicken Label Insights Study of 1,000 US chicken consumers across the US.

Chicken labels fare better than overall food labelling, with 27% of consumers finding them confusing – compared to 62% of all food labelling. And more time spent reading the labels doesn't seem to help, with 38% of respondents saying this doesn't dispel their confusion.

Some claims are more problematic than others, with 30% baffled by all the different antibiotic claims surrounding chicken production. However, the assurance that chicken is raised without the use of antibiotics and is humanely raised can boost the likelihood of purchase, with 36% of shoppers saying that the No Antibiotics Ever claim is important to them when choosing chicken .

"The demand for products raised humanely and without antibiotics ever is growing," said Rory Bidinger, brand manager for Gold'n Plump.
"Not all antibiotic claims are created equal. Many companies are making statements about eliminating the use of antibiotics medically important to humans. Our All Natural Gold'n Plump products feature No Antibiotics-Ever – which means no antibiotics of any kind have been used."

The company claims it will be one of the first mainstream chicken brands to switch its entire product line to be raised without antibiotics of any kind.

The USDA only allows products sourced from chickens never given antibiotics their entire lives, including when inside the egg, to be labelled as "No Antibiotics-Ever."

As the Gold'n Plump brand switches to a No Antibiotics-Ever product line, the products will also be officially certified by the American Humane Certified farm program.

"Since 2013, we've been auditing our contracted family farm partners and grow-out barns–including those responsible for the care of Gold'n Plump flocks. The official certification of Gold'n Plump formalizes our already steadfast belief in humane care."

For products to display the American Humane Certified seal, all animal care, handling and processing practices must pass annual independent, third-party audits by meeting or exceeding the farm program's 200 plus rigorous requirements.

The first Gold'n Plump products featuring both of these claims are in store now, with 25 products in distribution with plans to gradually extend these features to the entire Gold'n Plump line.

The brand's value-added retail and deli products will convert by the end of 2019.