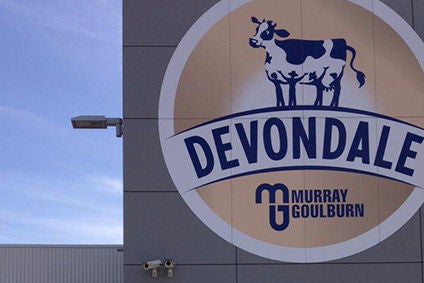 Dairy companies including Australia's Goodman Fielder and Bega Cheese, as well as Italian giant Parmalat, are reported to be eyeing under-pressure Aussie cooperative Murray Goulburn.
The Australian Financial Review today (6 September) claimed Goodman Fielder – owned by Singapore agribusiness giant Wilmar International and investment vehicle First Pacific – was weighing up whether to make a move for Murray Goulburn's assets.
Two weeks ago, Murray Goulburn revealed it had attracted interest from unnamed parties considering buying part or all of the embattled Australian dairy group.
The Devondale owner disclosed the approaches alongside the publication of its annual results, which included lower sales and an annual loss of more than AUD370.8m (US$293.4m).
Yesterday, the same publication said several parties had signed confidentiality agreements. The newspaper described Bega Cheese and Lactalis-controlled Italian dairy group Parmalat as being "keen" to consider the sale documents.
In June, Murray Goulburn, trying to rebound from a problematic 2016, launched a "comprehensive" review it said would look at "all aspects" of its strategy and corporate structure. The move followed a previous review of the group's manufacturing network, which resulted in plans to close three facilities.
The co-op said a fortnight ago it had been contacted with "indicative proposals from third parties" since embarking on the broader review.
Officials at Wilmar and Lactalis had not responded to requests for comment at the time of writing.