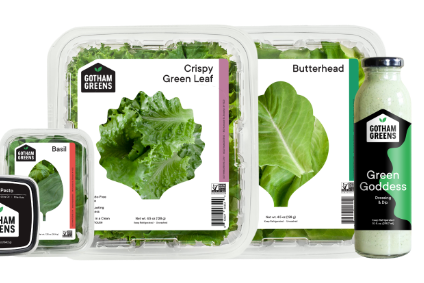 US indoor farmer and fresh-food producer Gotham Greens has raised US$87m in new equity and debt capital.
The company, which has now raised total financing of $130m, said it plans to open new greenhouses and launch products.
Gotham Greens' latest capital raise includes the recent Series D funding round led by Manna Tree and joined by The Silverman Group and other existing investors.
The company operates greenhouses located across the US producing leafy greens. Gotham Greens said it has doubled its revenue in the past year, without providing details. Its products are now sold by retailers in more than 40 states.
It said it now intends to "accelerate its mission to decentralise food production and bring more fresh foods to people across the United States through channel and geographic market expansion, increased operational capacity and new product development".
Viraj Puri, co-founder and CEO of Gotham Greens, said: "Given increasing challenges facing centralised food supply chains, combined with rapidly shifting consumer preferences, Gotham Greens is focused on expanding its regional growing operations and distribution capabilities at one of the most critical periods for America.
"We're dedicated to changing how people think, feel and interact with their food while decreasing the environmental footprint of the traditional produce supply chain."
Brent Drever, co-founder and president of investor Manna Tree, said: "Gotham Greens is the fastest-growing indoor farming company in the United States today with a track record of profitable, commercial-scale production.
"The pandemic has revealed flaws in America's food supply chain system, particularly in the produce category, and new leaders and innovators need to emerge to ensure a stable food supply for the future. We believe Gotham Greens' brand, highly scalable business model and leadership team position the company to be the market leader in the rapidly growing and changing landscape."
In the last 12 months, Gotham Greens has opened new greenhouses in Chicago, Providence, Baltimore and Denver.
The brand recently launched new products, including packaged salads, cooking sauces and grab-and-go salad bowls.