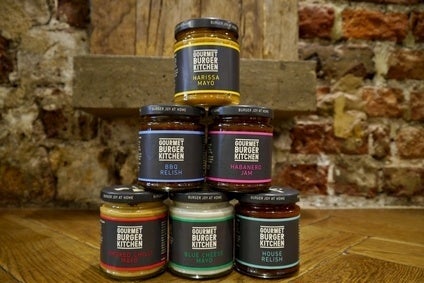 Burger restaurant chain Gourmet Burger Kitchen is to launch sauces into the UK retail channel this month.
The sauces, launched by distributor All About Food, are the same as those served in the restaurants. The range comprises six flavours and they will go on sale in Tesco at an RSP of GBP1.99 (US$3.01).
Tim Molema, head of food at Gourmet Burger Kitchen, said: "At Gourmet Burger Kitchen we have always taken pride in making our sauces fresh from scratch every day and wanted to develop a range of sauces that allows people to enjoy the GBK experience in their own home. Now our burger aficionados can experiment at home to create their own perfect burger, with the same variety of flavours that we use in our kitchens."
Laura Mallon, brand manager at All About Food, added: "More and more people are looking to experience restaurant quality in the comfort of their own home, and the popularity of Gourmet Burger Kitchen meant that these new sauces were a natural next step."