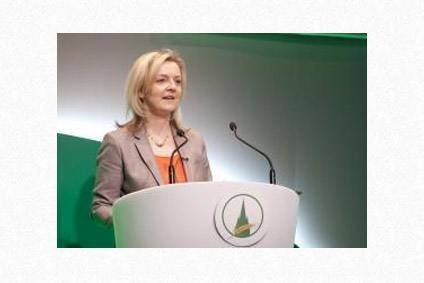 Talks between stakeholders in the UK dairy industry have ended with a commitment to form a "working group" to address issues in the supply chain.
The discussions, hosted by Environment Secretary Liz Truss, were convened in the wake of claims falling farmgate milk prices have seen some farmers forced to sell milk below the cost of production. Representatives from the National Farmers' Union, supermarkets, milk processors and banks were present. Attendees agreed to establish a working group to investigate the implementation of the voluntary code on milk prices, which some farmers believe is not being followed.
NFU president Meurig Raymond said the meeting provided an opportunity to discuss ways of helping dairy farmers "struggling to cope with the impact of current market volatility".
Raymond said: "The Secretary of State made clear that she will take forward many of our demands for immediate help such as looking at any overdue single payment scheme payments and the ability to stagger tax payments and support from banks. We continue to believe that government should also look at addressing other important areas including lifting the EU intervention price and profit averaging over a longer period.
"In the short term, a working group will be convened to look at all aspects of milk contracts, including implementing the recommendations of the voluntary code review and the need for more trust and transparency when it comes to milk buyers' contracts with their suppliers. This group will also further explore the role of futures in the dairy sector."
In the longer term, Raymond said the Government plans to support the UK dairy industry in reducing the trade deficit through "encouraging and developing new markets for export".