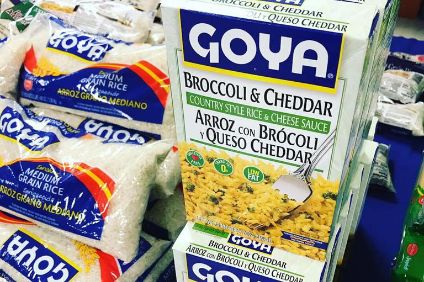 Bob Unanue, president and CEO of US-based Goya Foods, has told the media he has no intention of apologising for praising President Trump, remarks that have led to a call for a boycott of the firm's products.
Unanue told the broadcaster Fox News he considered the threat an attempt at "suppression of speech".
He made his pro-Trump remarks at an event at the White House on Thursday (9 July), which he attended as part of a commission called the White House Hispanic Prosperity Initiative.
Unanue said: "We're all truly blessed at the same time to have a leader like President Trump, who is a builder."
Speaking to Fox News, Unanue also called the criticism hypocritical since he also appeared with former President Barack Obama at the White House.
Goya Foods sells its products in the US and many Latin American countries and is considered to be the largest Hispanic-owned food company in America.
The comment led to a call from politicians, celebrities and consumers to boycott Goya, arguing Trump had previously depicted most Mexican immigrants as criminals, pursued anti-immigration policies and talked about building a southern border wall.
They have shared alternative brands and recipes online and their boycott hashtags have trended on social media.
Former Democratic presidential candidate Julián Castro said Americans should "think twice before buying their products" given that their CEO had praised "a president who villainises and maliciously attacks Latinos for political gain".