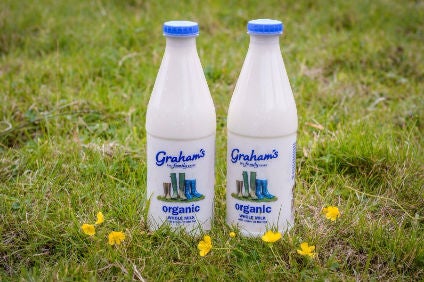 Scotland's Graham's The Family Dairy has said its new organic whole milk comes with the bonus of "cream on top of healthy goodness".
As the product is non-homogenised, it does not go through the process which gives other milk products a more consistent texture, Graham's said. "The new organic whole milk has the same creamy top appeal, reminiscent of traditional milk float deliveries, but with the added bonus of more essential fatty acid omega 3, as is found in organic dairy."
Graham's MD Robert Graham said: "This milk is a delicious alternative to other milk on the market, especially for those who are looking for an option that provides all the goodness of organic dairy, with the added bonus of cream on the top. With a nod to traditional milk deliveries, it's packaged in a PET bottle that both feels good to pour and looks great on the breakfast table."
"Some customers are telling us that they want a product close to natural whole milk, for the taste, for their families and for all the health benefits that organic produce brings," Graham said. "We have been dairy farming since 1939 and, while our business remains steeped in family values, we are always looking to innovate. It is wonderful to be able to respond to this demand with a product that goes back to basics."
All of Graham's organic milk comes from cows that have been grazed on pastures across Scotland that have no pesticides or chemical fertilisers used on them. Graham's has secured a listing with Waitrose.
The new non-homogenised, organic milk is the latest addition to Graham's range including ten types of milk, butter, ice cream, cheese, yogurt and cream cottage cheese, soured cream, in addition to the dairy's recently launched quark cheese range.
Last November, First Milk offloaded its Glenfield Dairy to Graham's for an undisclosed sum. Glenfield, also based in Scotland, supplies soft cheeses and cream products to retailers and foodservice operators.