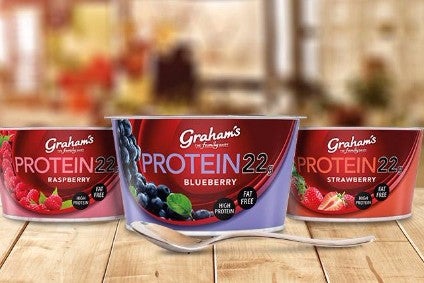 Scotland-based Graham's the Family Dairy has secured listings in England for its quark-based Protein 22 product.
Since its launch in January, the 22 gram protein pots have been available in Sainsbury's stores in Scotland. The family-owned company today (17 October) announced Sainsbury's had agreed to stock the product south of the border.
Graham's also said it had won listings for Protein 22 with Tesco and Asda in Scotland.
As well as being high in protein, the product is promoted as 100% natural, fat-free and low in both salt and sugar. Protein 22 is available in strawberry, raspberry, peach and blueberry flavours.
Speaking about the new listings in a statement, managing director Robert Graham said: "Protein 22 has proven hugely popular with those looking for a healthy, high protein snack. We're delighted Sainsbury's have agreed to expand their listing of Protein 22, becoming the first listing for the product in England."
Graham's also produces a range of milk, butter, cream, ice cream, quark and cheddar cheese, as well as Graham's Organic and Graham's Gold Jersey brands.
The company invested GBP1.5m (US$2m) this year in a new logistics facility in Kintore, Aberdeenshire, giving Scotland's largest independent dairy the ability to deliver more milk to the north-east of Scotland following the acquisition of Mitchells in Aberdeenshire in 2014.
Graham's is also awaiting government approval for a GBP20m dairy centre in Stirlingshire that will also incorporate public housing, schools and new infrastructure.