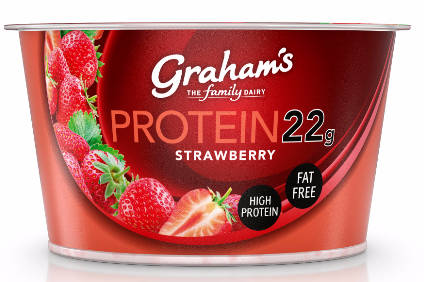 UK business Graham's The Family Dairy is expanding its line-up of quark products with the introduction of Protein 22g – which the company said will be the "highest protein content product" in its range.
The new product, which will be available in peach, raspberry and strawberry flavours, was showcased at last month's SIAL global trade expo in Paris.
Protein 22g is initially planned to be rolled out across the UK. Graham's marketing executive Emma Roy said the company is working on listings for the new product, which the company plans to initially roll out across the UK.
Roy said Protein 22g is "quark-based with fruit and strained more to give it the higher 22g of protein content". The product is believed to be "the highest level of protein currently available in such a product", Roy said.
"With the long shelf life of the product, Protein 22g is to be expanded across the UK, whereas some of our products up to now have been focused on Scotland," Roy said. "We are looking at exports too, which is why we tested the product out at SIAL."
Roy said no destinations for exports of the new product are being named by Graham's at present but insisted "Europe has potential".
The quark sector "is a huge market for us and we'll be continuing to develop the protein range," Roy said. "Whether we keep [the new product] as the Protein 22g range, or whether we develop it further and increase the protein, be that 23g or 24g, we shall have to see. We can of course do lots of things with this product. We're also looking to produce a drinkable yogurt."
Roy said the Graham's Glenfield Dairy in Fife, which it acquired last year from First Milk, "has all the machinery and equipment we need to make and develop these products".
Graham's launched a quark cheese range throughout the UK earlier this year. MD Robert Graham told just-food the company's quark, cottage cheese and soft cheese products are among top sellers at home and in exports.
The company is also developing a savoury addition to its existing quark range to maximise sales potential for the "massive and still expanding" demand for healthy food products, Roy said. Samples of the company's potential future savoury quark product, in chive and onion and tomatoes and basil flavours, were offered up for feedback at SIAL
Robert Graham, the dairy group's MD, told just-food the business should generate around GBP2m in export sales across its portfolio this year. "Health is such a massive consumer driver and dairy is ideally placed for that," Mr Graham said. "We are seeing increases in butter sales, because people want a natural product instead of buying something like margarine. Dairy fats are less demonised now and an awful lot of the products we make, such as quark, the protein range and cottage cheese, are bang in that consumer trend for health. We are known for making some particularly good products and we're innovative. For example, our quark is very different from the German product, which is quite dry. We use a different manufacturing process that gives a higher level of protein but with a silkier texture."
In addition, Mr Graham claimed: "Scotland has a phenomenal provenance and we probably don't do enough with that to drive sales as an industry".
According to Mr Graham, the company's existing main export markets are Denmark, Belgium, France, Ireland and the United Arab Emirates but there are "nine target countries" in the company's sights for future sales. He said exports are mainly under the company's brand, but it does export some products to be sold under private labels.
Reflecting on the potential impact on trade following the UK's decision to leave the European Union, Mr Graham said whatever the arguments on either side of the referendum debate, "we just need to get on with it".
He said: "We have reports in the press about the effects of Brexit on inflation and whether what we read is real or not, all the uncertainty and talk is driving a lot of the inflation, which is fierce and is reflected in the cost of raw materials. We are seeing the effects on fats and it is going to drive up the cost of milk."
In addition, shortages of milk supply and European Commission support for farmers to reduce milk production has raised new challenges for the industry, Mr Graham added. "On top of that, we have the issues surrounding currency exchange, which will all drive up the cost of raw materials in terms of sterling. But whatever happens, we are still going to be trading after Brexit and we have to get on with it."