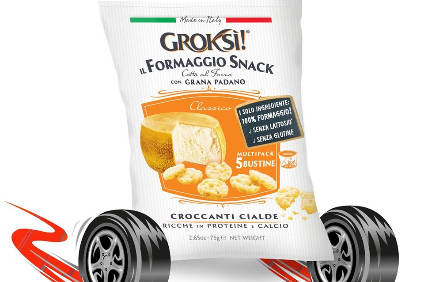 Italian dairy business Granarolo has acquired a 30% stake in local lactose-free cheese snacks business San Lucio.
The deal is the second announced by Granarolo this month. Granarolo also struck a deal to buy Italian bakery group Pandea Dietetica.
Gianpiero Calzolari,Granarolo's chairman, said the group had taken a stake in San Lucio "because it represents Italian excellence … and also because it has demonstrated the ability to grow by innovating the Groksi brand".
Calzolari said San Lucio combined "traditional dairy products with the modernity of unique snacks that are able to meet new market demands for more suitable dietary products for those with a food intolerance".
San Lucio was launched in 2010 to produce the Groksi line of oven-baked cheese bites. A spokesperson told just-food: "We started as a dairy at the beginning but we did not produce cheese ourselves. We buy the raw product as gluten-free and lactose-free and transform it into our product."
The four flavour variants in the Groski line are all made using a patented process that "that transforms the cheese into a snack that needs no refrigeration", the spokesperson said. In addition, San Lucio produces other private-label snack products.
Turnover from the Groksi brand is expected to be more than EUR4m (US$4.2m) this year, up from EUR3.7m in 2015. Exports account for around 40% of Groksi sales. The spokesperson did not provide details on San Lucio's total turnover.
The Sangiacomo family will continue to own 70% of San Lucio. Company president Bruno Sangiacomo said the deal with Granarolo "represents a unique opportunity to further grow the consumption of this extraordinary product in Italy and abroad".