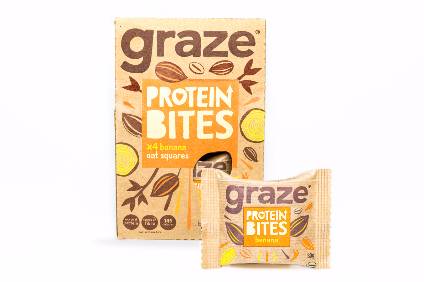 UK healthy snacks retailer Graze has launched its "energy-fuelled" oat-based Protein Bites product in the country.
Protein Bites come in multipacks "containing 4g of protein" in each bite, Graze said.
The company said the launch aims to capitalise on the "popularity of protein-based products" with three variants – Banana, Cocoa Vanilla and Honey & Seed.
Graze chief brand officer Sarah Fuller said the new product adds "an element of convenience to our range, enabling those with busy lifestyles to enjoy healthy snacks that are both delicious and nutritious".
Fuller said: "The protein market is a key area for Graze and we're looking forward to innovating further in this space and seeing where we can go with the new line."
Protein Bites will be available at retailers including Tesco, Sainsbury's and Waitrose later this month. Each multipack contains four 30g bites and will be on sale for GBP2.49 (US$3.20).
Graze was founded in the UK in 2008 by the developers and logistics experts behind the technology that powered LoveFilm. Formerly only an online retailer, Graze announced its debut into mainstream retail in 2015 after securing listings with 850 Sainsbury's stores in the UK.
In October, Graze announced the launch of its products into 3,500 drug and grocery stores in the US.