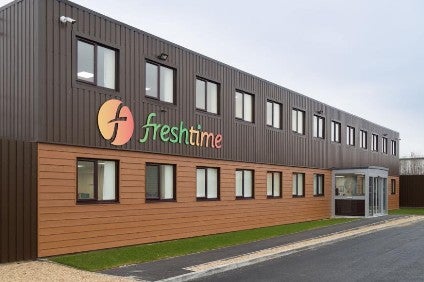 Greencore has acquired salad and chilled-snack maker Freshtime UK as the private-label manufacturer consolidates its position in the country having exited the US market last year.
Dublin-based Greencore said in a statement today (3 September) it has purchased the entire issued share capital of The Bay Group, the parent company of Freshtime, from John Richmond. The deal has been struck for an enterprise value of GBP56m (US$67m) and will be funded from existing debt facilities with no change expected from its "medium-term leverage range."
Greencore's leverage ratio defined as net debt-to-EBITDA has previously been set at 1.5 times to 2 times.
Freshtime operates in the UK convenience segment and offers prepared foods, as well as salads-to-go and chilled snacks from its single base in the town of Boston in Lincolnshire. The company generated revenues in 2018 of GBP66m and profit before tax of GBP5.6m.
Last year, London-listed Greencore exited the US market, selling the business to contract manufacturer Hearthside Food Solutions for $1.07bn, and said it would focus operations in the UK.
Chief executive Patrick Coveney said in a statement to the stock exchange today: "Freshtime is an excellent strategic fit for Greencore. It is a business and a customer set that we know very well and it provides us with an exciting opportunity to enhance our product offering, add further capacity to our manufacturing network, and help drive growth and value for shareholders."
Greencore added Freshtime's manufacturing facility is "well-invested", giving capacity for future expansion. As well as supplying retail and convenience channels, Freshtime "distributes a large proportion" of its products through its Direct Store network, "reflected as revenue from the distribution of third-party products".
Investment house Shore Capital, which acts as an advisor to Greencore, issued a note to clients on the transaction saying: "We see the Freshtime acquisition as very much aligned with Greencore's newly-focused UK strategy, enhancing the group's presence in food-to-go salads and chilled snacking, with a customer base that is highly complementary to Greencore's existing portfolio. We see the deal as also aligned to Greencore's dynamic capital-allocation model, and we expect it to be welcomed by investors."
Shore Capital said the deal represents price-to-earnings of 10.9 times and an EV/EBITDA multiple of 7.2 times.
"We see Greencore stock as undervalued given its very well-invested UK manufacturing base that delivers an attractive mid-teens return on invested capital, whilst expected to generate substantial cash to support an increasingly robust balance sheet that provides for material optionality over the short to medium term," it noted.
See just-food's analysis on the US departure: Greencore switches to "singular focus" after US exit
And: Interview: Greencore CEO Patrick Coveney on leaving US market and focusing on UK