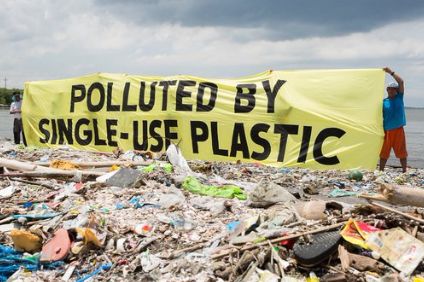 Environmental pressure group Greenpeace has criticised food and drink giant Nestle's pledge to make all its plastic packaging recyclable or reusable by 2025.
Greenpeace said Nestle's statement, aimed at addressing the growing plastic pollution crisis, does not include clear targets to reduce and eventually phase out single-use plastics.
Its oceans campaigner, Graham Forbes, said: "Nestle's statement on plastic packaging includes more of the same greenwashing baby steps to tackle a crisis it helped to create.
"It will not actually move the needle towards the reduction of single-use plastics in a meaningful way, and sets an incredibly low standard as the largest food and beverage company in the world. The statement is full of ambiguous or non-existent targets, relies on 'ambitions' to do better, and puts the responsibility on consumers rather than the company to clean up its own plastic pollution.
"A company of Nestle's size should be setting a strong standard to actually move towards the reduction – and eventual phasing out – of throwaway plastics. It should know by now that recycling efforts are not going to clean up our oceans, waterways, and communities. On the contrary, the company's business as usual will only accelerate plastic pollution."
Nestle sent just-food a statement in response to Greenpeace's accusations.
It said: "We are working hard to achieve the ambition and commitments we have set ourselves as a business. Our global announcement will require a lot of effort, engagement and action. We know that there is much more to be done in order to address this critical global issue, and we are committed to playing our part in working to identify meaningful solutions.
"We will provide regular public updates on our progress, and look forward to working collaboratively with all actors in order to achieve our shared vision that no plastic ends up discarded in our natural environment, including our oceans and waterways."
Nestle's plastic packaging pledge was issued yesterday (10 April). It said its vision is none of its packaging, including plastics, ends up in landfill or as litter.
The Switzerland-based company said it is focusing on three core areas: eliminating non-recyclable plastics; encouraging the use of plastics that allow better recycling rates and eliminating or changing complex combinations of packaging materials.