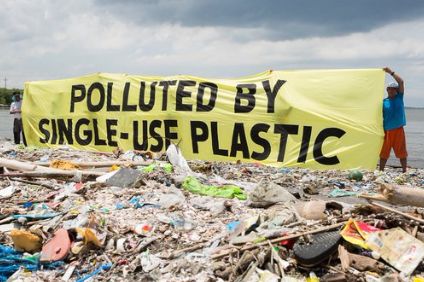 UK-based environmental pressure group Greenpeace has cited household-name food producers in a list of the top ten worst offenders when it comes to throwaway plastic.
PepsiCo, Nestle, Danone, Mondelez International, Unilever, Perfetti van Melle and Mars all feature in the top worst offender rankings.
The rankings are based on research Greenpeace has carried out with the Break Free From Plastic movement. It enlisted the help of 10,000 volunteers across 42 countries to embark on a huge brand audit project.
"Nine months, six continents, 239 clean-up events, and more than 187,000 pieces of trash later, we now have the most comprehensive snapshot to date of how corporations are contributing to the global plastic pollution problem," it said.
Greenpeace said the brands listed need to be held accountable for their plastic problems.
"As some of the largest companies in the world, Coke, PepsiCo, Nestle, and the others on this list have the chance to be part of the solution to the plastic crisis. Instead, they remain a part of the problem, selling us plastic drink containers and packaging we have no choice but to throw away," it said.
"To solve this problem, we need to change the entire system – from how our products are made to what happens when we're done with them. And we need corporations to be part of the solution."
It is calling on people who come across branded plastic pollution to name and shame the company concerned by sharing an image of it on social media using the hashtag IsThisYours? and tagging the brand in question.
A number of the food companies highlighted in the report, including Mondelez International, have announced initiatives to introduce recyclable packaging for their products.
just-food asked all seven of the food companies named in the Greenpeace top ten list for a response to its findings.
Unilever said: "We share the ambitions set out in Break Free From Plastic's report and have been working to reduce our packaging footprint for a number of years. However, as a consumer goods industry, we need to go much further, much faster, in addressing the challenge of single-use plastics.
"We will continue to work with NGOs, the broader industry and governments to support a shift to a circular economy and reduce plastic waste."
A spokesperson for Mars said: "The sustainability of our packaging is a continued focus here at Mars and we are continuing to work towards 100% recyclability of our packaging by 2025.
"Our chocolate packaging lets us provide our consumers the products they love in a safe and sustainable way. We are dedicated to continually evolving our packaging goals to make sure they pave the best way to efficiency and sustainability. Looking ahead, we are focusing on reducing waste and reducing carbon – two areas with the most significant impact for packaging."
A spokesperson for Nestlé said: "Nestlé is committed to achieving its vision that none of its packaging, including plastics, ends up in landfill or as litter. Greenpeace's report highlights the challenges we face as a society, in tackling the issue of packaging and plastic waste.
"As the world's largest food and beverage company, we recognise the issue and we are working hard to eliminate non-recyclable plastics. We are also working with value chain partners and industry associations to explore different packaging solutions to reduce plastic usage, facilitate recycling and develop new approaches to eliminating plastic waste.
"The results of Greenpeace's brand audits demonstrate a clear and pressing need for the development of proper infrastructure to manage waste effectively around the world, both in the formal and informal sectors. It is imperative that all actors along the waste value chain including brands, packaging producers, waste management companies, governments, and civil society, work together to bring forward the change we need to see."
Danone said: "We consider the recovery of plastic packaging and the fight against marine pollution to be of great importance and we are committed to playing an active part in tackling this.
"We are actively working on plans that will accelerate our transition towards a circular economy for packaging. We are dedicating people and resources to work on the design of product packaging – including re-use models, the effectiveness of collection and recycling systems and the preservation of natural resources.
"We work for the development of more efficient public systems for collection and recycling and we also invest to develop private initiatives where need be.
"We also believe that our brands have a role to play, building partnerships to support cutting edge research and innovation and mobilising consumers to address this issue."
PepsiCo said: "PepsiCo shares the concern that plastics and other waste are accumulating in the marine environment and on land, which is why we are committed to achieving 100% recyclable, compostable or biodegradable packaging by 2025.
"Protecting our planet is hugely important to us and the issue of plastics and waste requires urgent attention. PepsiCo has a number of initiatives in place to increase recycling rates and reduce the amount of packaging we use all while working with experts and investing in this space to bring the latest sustainable packaging advances to market.
"We don't have all the answers yet, and we will continue to collaborate with a number of leaders in this area to learn and share the latest science and practical solutions."
Laura Flynn, external affairs manager, Northern Europe, at Mondelez International, said: "We have seen the report and share the same concerns around reducing packaging waste. Our focus is to ensure that all our packaging is able to be recycled, while working with industry and government to ensure the right collection and recycling facilities are in place.
"In fact, we just announced a new commitment to make all our packaging recyclable by 2025, which will help deliver our long-term vision for zero-net waste packaging. But tackling waste in all its forms is a complex and multifaceted problem. Therefore, it's crucial for the industry, government and civil society to work together so we can work more effectively and efficiently."