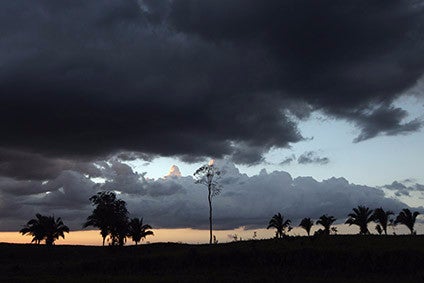 Greenpeace has insisted there is "a considerable amount of work to be done" before consumer goods companies can say no deforestation takes place in their supply chains in a report critical of FMCG giants including PepsiCo .
The NGO has surveyed 14 companies – ten of which operate in the food sector – that have set up policies to meet their commitment for no deforestation. Greenpeace set out three criteria: responsible sourcing, transparency and support for industry reform.
"The responses we received reveal there is a considerable amount of work to be done before companies have deforestation-free supply chains. None of the companies we surveyed are able to say with any certainty that there is no deforestation in their palm oil supply chain. Most companies are unable even to say how much of their palm oil comes from suppliers that comply with their own sourcing standards," Greenpeace said.
Only two companies – Ferrero and Nestle – were awarded an overall score of "on track". Italy-based confectioner Ferrero was the only one of the 14 businesses that can trace nearly 100% of its palm oil back to the plantation, Greenpeace said. Nestle, the campaigners noted, had "substantial traceability of its palm oil to the plantation level, notable given its high volume of supply".
However, PepsiCo, alongside Colgate-Palmolive and Johnson & Johnson, is "really letting their customers down", Annisa Rahmawati of Greenpeace Indonesia, said. "These companies must have a fully transparent supply chain and ensure they only buy palm oil from suppliers that are protecting our rainforests," Rahmawati said.
PepsiCo, Greenpeace claimed, had "no evidence that its palm oil is deforestation-free". The Doritos maker's ability to trace its palm oil to mills is also "below its competitors", the campaigners added.
In response, PepsiCo pointed to its palm oil policy, under which it pledged to "exclusively" purchase 100% "certified sustainable palm oil" by 2015 and said it would work with suppliers to achieve 100% traceability to the mill level by 2016.
The US food giant said it had also made a commitment on no further development of "high carbon stock" or "high conservation value" forests. It said further research may identify more high-carbon stock areas. "We will review this policy on a periodic basis to determine if other classifications should be added.
A spokesperson told just-food: "We take the issue of deforestation and the sourcing of sustainable palm oil very seriously, and so PepsiCo has a long-standing palm oil policy. Our action plan reflects our enhanced efforts, including traceability to the mill level by 2016 and the sourcing of 100% physically certified sustainable palm oil. We recognize this is a journey, and we will continue to evolve our efforts and commitments."
PepsiCo, alongside other companies including Unilever , was also criticised by Greenpeace for using the GreenPalm scheme, under which companies buy certificates from a palm oil grower certified by the Roundtable for Sustainable Palm Oil to offset each tonne of the ingredient they use. There is no guarantee the palm oil is certified sustainable but GreenPalm says the scheme helps support growers certified by the RSPO. Greenpeace labelled the programme a "false solution" and said companies should phase out their use of the certificates.
GreenPalm business executive Simon Chrismas defended the scheme, insisting the programme helps "link" growers to demand for certified, sustainable palm.
"An estimated 30% of the volume and 40% planted area of the world's palm oil is produced by smallholders. We also have independent growers and mills who do not export to markets where there is any demand for certified product, and therefore have no support to start working sustainably," Chrismas said. "GreenPalm is playing its role in helping this large and vitally important proportion of the palm industry that would perhaps continue as it is, instead of being supported to become sustainable.
"GreenPalm certificates are now also traceable back to the originating producer so a buyer knows exactly which certified sustainable grower or mill they're supporting. In fact the buyer can choose which mill they want to support, perhaps in grower areas that need this support the most or those that are going above and beyond certification."
Neither PepsiCo nor Unilever commented directly on their use of the GreenPalm certificates when approached by just-food.
Greenpeace gave Unilever a "decent" rating for responsible sourcing and transparency, while rating its support for industry reform as "strong". However, the campaigners said the Flora maker's traceability to mills was low compared to other companies in the sector. Greenpeace also called on Unilever, alongside other companies to publish a more extensive list of known suppliers and sub-suppliers.
Speaking to just-food, a Unilever spokesperson said: "All of our food in Europe contains 100% segregated and sustainable palm oil. Since September 2015, we have been working to elevate our sustainable palm oil sourcing policy to drive the transformational change needed in the industry to halt deforestation; protect the environment; and promote the rights of the people and communities affected by palm oil production. We have been working in consultation with suppliers, our external sustainability advisors and NGOs such as Greenpeace to develop this new policy which will be published in the coming weeks."