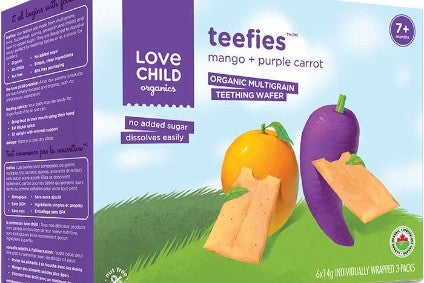 Canadian food manufacturer GreenSpace Brands has entered an exclusive agreement with Sinova Group to distribute its Love Child baby products in China through e-commerce platforms.
The arrangement with Sinova's subsidiary JustOrder Technologies will cover the listing of Love Child products online through Alibaba and Kaola, two platforms for cross-border e-commerce in China.
GreenSpace said it will maintain control of all elements of the brand and associated marketing. The company envisages the agreement will be broadened over time to include other online retail channels once the Love Child brand is established in China.
The Love Child range includes organic purees, cereals and snacks, which all use nutrient-rich ingredients.
Matthew von Teichman, chief executive of GreenSpace, said the company had received a lot of interest from China for its Love Child range and wanted to take advantage of the country's growing baby food market.
He added: "JustOrder is an ideal partner that understands the natural foods market and Chinese consumer and has a track record of successfully launching foreign brands, particularly Canadian brands, into China."