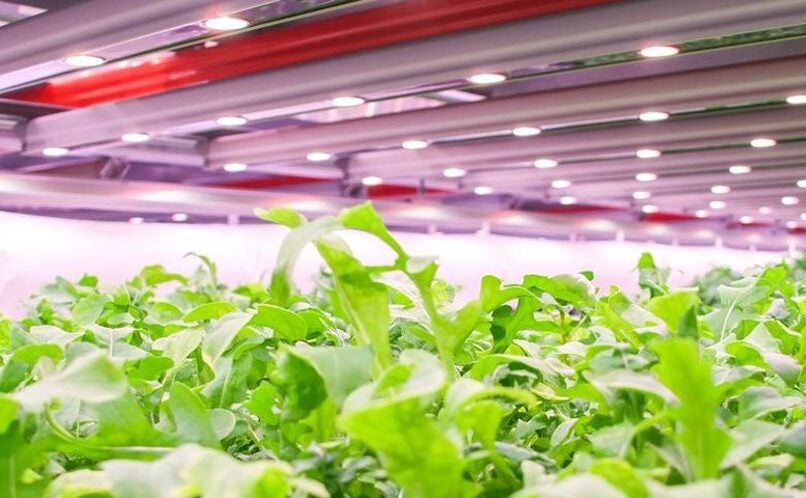 GrowUp Farms has received GBP100m (US$135.6m) in investor financing to scale up its new vertical farm in south-east England.

Founded in 2013 by Tom Webster and Kate Hofman, GrowUp Farms had built a network of three farms cultivating salad leaves – its GrowUp Box and Unit 84 projects in London, and a crop development and R&D facility at the Agri-Epi Centre at Harper Adams University in Shropshire.

Hofman confirmed the first two farms are no longer operational, while the Shropshire facility is developing other produce beyond leafy greens, although she declined to provide specific details. GrowUp's new farm in Sandwich, Kent, which is under construction, is expected to start supplying salad greens in the 2022-23 winter season to "UK supermarket shelves".

Due to commercial limitations, Hofman was not able to reveal if any major UK supermarkets will be involved, confirming with Just Food the business has halted supply for the time being following the closure of its two London farms. They had served restaurants and local grocers in New Covent Garden, and also marketed produce online with Farmdrop and in Whole Foods Market stores.

Generate Capital, a San Francisco-based public benefit sustainability investor, has provided the capital to support the development of GrowUp's low-carbon, renewable-energy farms. The company had previously secured GBP7m in financing, Hofman told Just Food.

Dr Erich Becker, the head of Generate's European business, said: "Generate is passionate about using our expertise in sustainable infrastructure to build facilities that achieve better land use, improve our resource efficiency, add supply chain resilience and mitigate climate change.

"We're thrilled to partner with the expert and innovative team at GrowUp to accelerate sustainable vertical-farming infrastructure in the British market."

Hofman said in a statement GrowUp aims to offer "affordable" fresh produce to consumers, noting the year-round supply achievable through vertically-farmed crops.

"Our farms can deliver fresh, long-lasting salads consistently, and withstand the mounting environmental and economic pressures from inflation in transport, labour and commodity costs that have challenged the fresh produce sector," she claimed. "Salads grown on the farm are expected to save up to 3 million lorry miles per year by avoiding imports."

Marcus Whately, the managing director of GrowUp, added: "Our team has worked hard to solve the challenges that kept vertically-farmed salads from being cost-competitive and sustainable. As we expand in Kent and at other sites, we look forward to becoming a long-term supply partner across multiple categories – helping supermarkets solve environmental and supply chain problems.

"We partnered with Generate Capital because of their long-term focus on both sustainability and economic efficiency, and together we can now bring this model to scale."
Just Food analysis: Indoor farming and the prospects for profitability