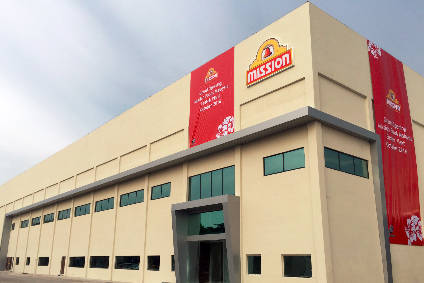 Mexican tortilla maker Gruma has opened a production plant in Malaysia as it works to expand the global presence of its Mission brand.
The company said it has invested US$55m in the Kuala Lumpur facility, which has the capacity to produce 30,000 tonnes of tortillas, flatbreads and pizza bases annually.
Gruma president and CEO Juan Gonzalez Moreno said the investment is a "solid step" towards "consolidating our global presence and strengthening our position as the world leader in the production of corn flour, tortillas and wraps".
Gruma entered the Malaysian market in 2007. From Malaysia, Gruma serves its customers and consumers in countries of Southeast Asia and the Middle East.
In its most recent financial update, for the second quarter of the year, Gruma revealed international revenue accounted for 74% of net sales. The company has invested heavily in international expansion. Over the three month period, Gruma invested US$79m, most of which was earmarked for international ventures. The company opened a new tortilla plant in Dallas,expanded a corn flour plant in Indiana, increased its silo capacity in Ukraine, invested in a new plant in Russia and expanded its plants in England and Spain. In Asia, the construction of its tortilla plant in Malaysia and the re-opening of a corn flour plant also added to the bill.