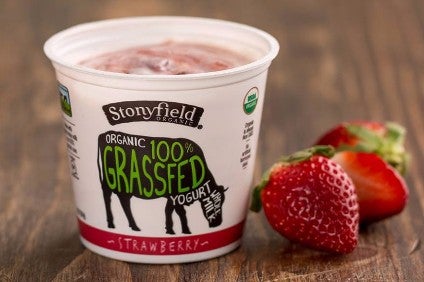 Mexican dairy group Grupo Lala has reportedly emerged as "the lead bidder" for US organic dairy business Stonyfield from French dairy giant Danone.
The report comes just a week after China's Inner Mongolia Yili Industrial Group Co. confirmed it was bidding around US$850m to buy Stonyfield, which Danone is selling as part of a deal with local regulators on the company's acquisition of US food and beverage group WhiteWave Foods.
According to the Wall Street Journal, talks about selling Stonyfield to Grupo Lala, in a deal "possibly worth several hundred million dollars", are "at an advanced stage".
Neither Danone or Grupo Lala had responded to just-food's requests for comment on the report at the time of publication.
Earlier this week, just-food columnist Victor Martino suggested "there could be more twists and turns in the race for Danone's US organic dairy unit" despite Yili declaring its hand. Martino said other bidders were likely to emerge for Stonyfield, which "could complicate things for Yili".
Dean Foods has also been named as a potential suitor for Stonyfield, although the company has told just-food the reports are "market speculation".