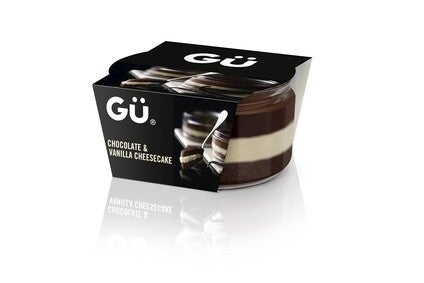 Dessert maker Gü has launched a range of single-pack offering for six of its products in the UK.
Until now, Gü desserts have been sold as twin packs. Gü said the move would allow shoppers to choose the product "that's just right for them".
The six Gü products joining the single pack line-up include the Chocolate & Vanilla Cheesecake, Key Lime Pie, Hot Chocolate Soufflé, Lemon Cheesecake, Gü York Cheesecake and Gü-Zillionaires' Puds.
Chris Heyn, head of brand at Gü Puds, said: "For over ten years, Gu has been synonymous with restaurant-quality desserts and patisserie expertise thanks to the success of our signature ramekin twin packs. But we need to keep innovating and responding to category trends. That's why we're excited to showcase the very best of Gü in a new single pud format that's perfect for consumers looking to choose the product that's just right for them."
The new Gü singles range will be available from March at an RSP of GBP1.80 (US$2.78).