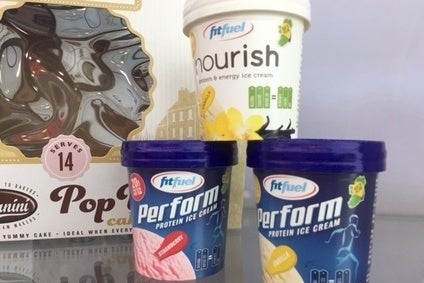 Irish ice cream producer Paganini is eyeing an entry into the Middle East's retail sector with the launch of its protein-heavy product Fitfuel.
The firm has had a presence in the UAE for just under a year, primarily servicing the foodservice sector with its frozen bakery products.
Last year, Paganini launched the Fitfuel range into the Irish market. Available in Tesco stores in Ireland, the company describes Fitfuel as a "protein-enriched, energy-dense" dairy ice cream.
The Fitfuel range offers two products. Fitfuel Perform has been designed as a sports nutrition product, boasting 20g of protein per 100g tub. Fitfuel Nourish targets hospital patients.
"In hospitals, I noticed how patients would eat the ice cream but wouldn't eat much of other foods if their appetite was depressed. I had a thing in my head about patients eating ice cream with no nutritional value and wondered what would happen if we tried to fortify the ice cream, get some nutritional value and still have an easy vehicle for them to consume the product," managing director of Paganini, Barry Murphy, told just-food at the Gulfood 2015 trade show in Dubai.
Paganini is exploring options for listing in the UAE's supermarkets. The product is "already on its way to being listed" in Spinneys stores, Murphy said, and "several discussions" are taking place to launch the product in other supermarkets across the country.