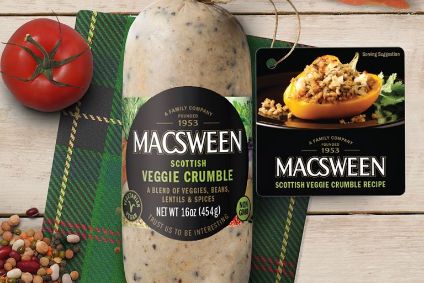 Haggis supplier Macsween of Edinburgh has re-entered the US with a vegetarian version of its flagship product.
Branded in the US as Scottish Veggie Crumble, Macsween of Edinburgh's haggis is available in 14 Fairway Market stores in the states of New York, New Jersey and Connecticut.
The US prohibit imports of traditional haggis but the market becomes the latest destination for Macsween of Edinburgh's vegetarian product. It is also sold in Canada and Singapore alongside the UK.
James Macsween, the managing director of Macsween of Edinburgh, said the listings marked almost half a century since the company last shipped to the US.
"We at Macsween are delighted to be exporting again to the USA after 49 years," he said. "This is a huge milestone for Macsween to be expanding internationally and leading the way in plant-based food exports.
"My grandfather, Charlie, would be very proud to see how far we've come from his original butcher's shop in Bruntsfield which he opened back in 1953. My father John Macsween would also be proud as he invented the world's first vegetarian haggis in 1984."