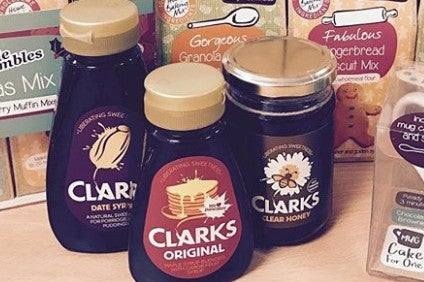 US natural and organic products group Hain Celestial has acquired UK syrup maker Clarks from the firm's management
Clarks is best known for its maple syrup but produces a range of natural sweeteners including honeys and fruit syrups. It is based in Newport, South Wales. Its products are in most major UK retailers and it also supplies major restaurant chains, foodservice clients, catering wholesalers and food manufacturers.
Hain Celestial, which has itself recently been linked with a possible takeover by global food giant Nestle, owns brands such as Ella's Kitchen, Earth's Best baby food, Linda McCartney and New Covent Garden Soup Co.
In the UK, Hain Celestial manufactures brands such as Sun-Pat peanut butter, Gale's honey, Robertson's marmalade and Hartley's jam.
Commenting on the Clark's acquisition, Irwin Simon, Hain Celestial's founder, president and CEO, said: "The Clarks brand and products are a strategic fit with the Hain Daniels spreads business for various natural sweeteners applications to complement our health and wellness portfolio of brands as consumers continue to seek to reduce their sugar intake and look for better-for-you alternatives to refined sugar."
James Skidmore, the CEO of the US group's UK arm, Hain Daniels, added: "The strength of the Clarks brand puts it in a strong position to capitalise on the growing consumer trends towards more natural and healthier foods."
In calendar year 2016, Clarks generated approximately GBP7m (US$9.5m) in net sales and is expected to be accretive to Hain Celestial's earnings in fiscal year 2019.
The financial terms of the deal are undisclosed.