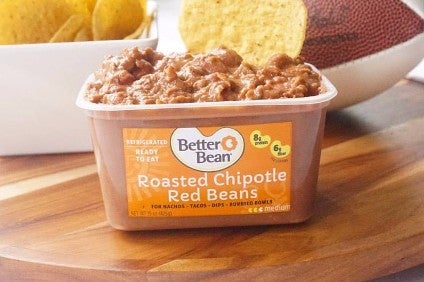 Hain Celestial today (28 September) announced a "mutual cooperation agreement" with Engaged Capital, the activist investor that bought a 10% stake in the Tilda rice-to-Earth's Best baby food maker this summer.
The US-based food group has also moved to shake up its board, including the appointment of six new directors. The new slate of directors includes Glenn Welling, the founder and CEO of Engaged Capital.
Hain Celestial said more details on its agreement with Engaged Capital would be published in an 8-K filing with the US Securities and Exchange Commission "later today".
When Engaged Capital announced its investment in Hain Celestial in June, the fund said shares in the Greek Gods yogurt maker were "undervalued and represented an attractive investment opportunity". The fund also said it had "engaged in communications and intends to continue to engage" with Hain Celestial's board and management "regarding means to create stockholder value".
Irwin Simon, Hain Celestial's founder, president and CEO, today insisted the company had made "a number of strategic initiatives and have put in place the building blocks to help drive our next phase of growth".
Simon said Hain Celestial's move to appoint six new directors was "in line with our commitment to strengthen our leadership team".
He added: "We also appreciate the insight, constructive approach and shareholder perspective from Glenn Welling and Engaged Capital throughout this process. Hain Celestial is well positioned among some of the fastest-growing trends, categories and channels in consumer products around the world today.
"We remain excited about the opportunities ahead and look forward to working collaboratively with our new board members."
Reflecting on the agreement with Hain Celestial and its appointment of new directors, Welling said Engaged Capital was "pleased to have been able to work so constructively" with Simon and the Hain Celestial board on what the activist investor described as "this important step toward enhancing value creation for all shareholders".
Welling added: "The board will benefit from the infusion of skills and experience in consumer packaged goods, grocery and retail, operations, and capital allocation. The enhanced board, which now includes a majority of newly appointed directors, is an important step towards ensuring Hain Celestial continues to create extraordinary value for shareholders.
"Hain Celestial is a great business with significant opportunities for growth and margin expansion, and I look forward to working with the management team and the board to help realise the company's full potential."
In August, Hain Celestial presented a mixed bag of full-year results in August for the 12 months ended June, the same month it issued results for the previous fiscal year that were delayed because of a review into its accounting.
While the delay was associated with a review into certain "concessions" made to US distributors, Nasdaq-listed Hain Celestial said in its June earnings commentary that it also found "immaterial errors" in previous financial statements that led to adjustments having to be made.
Sales for the year to June 2017 dropped 1.1% to US$2.8bn, net earnings rose 42% to US$67.4m, but both operating income and EBITDA fell.
When those figures were reported, Hain Celestial said under its Project Terra initiative the company had expanded its plan for future cost savings to US$350m through fiscal 2020 and established core platforms including better-for-you-baby, better-for-you-pantry and better-for-you-snacking.

Simon said at the time: "We believe our continued ability to evolve our business as we grow our organic, natural and better-for-you brands, expand relationships with new and existing customers and attract new consumers globally, paired with Project Terra, will fuel our success and create long-term value for our shareholders."
Hain Celestial was one of the first companies in the US to build a substantial business in the country's health and wellness sectors, principally through acquisition.
In a fresh bid to tap into trends in the sectors, Hain Celestial set up Cultivate Ventures in May to invest in "concepts, products and technology" that focus on health and wellness, resulting in the purchase of US firm The Better Bean Company in June.