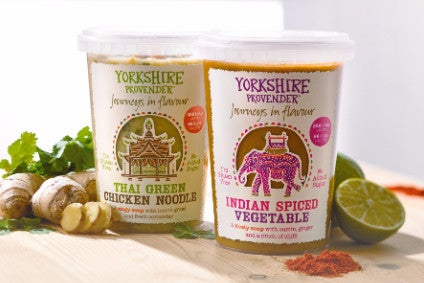 Hain Celestial, the US-based group with UK assets including soup brand New Covent Garden Co., has moved to buy another soup maker in the country, Yorkshire Provender.
The company said the acquisition, struck for an undisclosed sum, remained subject to the approval of competition officials in the UK.
Yorkshire Provender sells chilled soup to UK retailers. It also supplies foodservice operators in the country. Hain Celestial said Yorkshire Provender generated net sales of around GBP6m (US$7.5m) in 2016. The company added it expects Yorkshire Provender to be "accretive" to earnings in its 2018 financial year.
Irwin Simon, Hain Celestial's founder, president and CEO, said: "Yorkshire Provender has a premium brand positioning that complements our New Covent Garden Soup Co. and Cully & Sully brands in the United Kingdom."
Belinda Williams, one of the co-founders of Yorkshire Provender, set up in 2007, described the takeover of the business as "a significant milestone" for the company.
Earlier this month, Yorkshire Provender said it had expanded its business, with a move into the UK's breakfast market with the launch of an on-the-go line of gluten-free fresh porridge.
Hain Celestial, which has built a business in the UK in the main through acquisitions, made its last purchase in the country last year, with a deal for food and beverage group Orchard House Foods.
Last week, Hain Celestial announced it had again missed a deadline to file its quarterly results, prompting the US Securities and Exchange Commission to launch an investigation into the group.
After the market closed on Friday (10 February) Hain revealed that it was unable to file its report for the quarter ended 31 December by the previously extended deadline of 9 February. The last time Hain reported financials was for the third quarter of 2016 ended 31 March last year.
In August, the company said its reporting was delayed because it had "identified concessions that were granted to certain distributors" in the US and "commenced an internal accounting review" to determine whether the associated revenue was accounted for in the correct period.
The company's board separately conducted an independent review that, Hain Celestial stressed, "found no evidence of internal wrongdoing" in November.
However, in its announcement last week, Hain Celestial said it is extending the scope of the investigation. "Although the initial focus of the company's internal accounting review pertained to the evaluation of the timing of the recognition of the revenue associated with the concessions granted to certain distributors, the company subsequently expanded its review to perform an analysis of previously-issued financial information in order to identify and assess any potential errors, which is ongoing," the company revealed. That opens up the possibility that Hain Celestial could be forced to restate previously issued financial data.