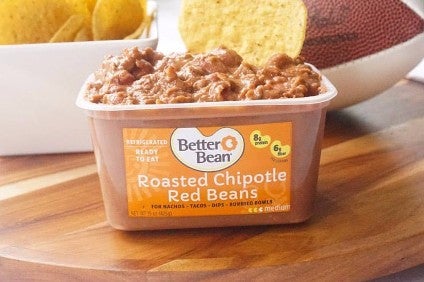 just-food publishes the most notable product development from the international food sector, presented in bitesize format to give you a flavour of the innovation from your peers and competitors announced this week.
Flurry of new products from Hain Celestial
US organic and natural foods business Hain Celestial is launching scores of new products at the Expo West 2018 show which starts today (9 March).
Amongst the 75 new or enhanced products are Arrowhead Mills Protein Flour and Protein Pancake and Waffle Mix, both made using 100% plant-based ingredients in a re-sealable bag.
The Earth's Best Organic brand is to add to its line of better-for-you formula feeding options with Organic Gentle Infant Formula and Non-GMO Plant Based Infant Formula while the Empire Kosher brand is introducing a new twist on brisket – Fresh Kosher Turkey Brisket.
The brand is also bringing back a favourite from decades ago – Kosher Turkey Roast in Sweet and Sour Sauce with authentic Asian flavours.
Empire Kosher brand is also introducing new ready-to-cook Kosher Turkey Meatloaf and fully-cooked dishes including Kosher Turkey Chili and Kosher Chicken Barbeque.
Hain Celestial's Garden of Eatin' brand's Organic Corn Chips will be available in three flavours: Corn Chips with Sea Salt, BBQ Black Bean, and Blue Corn Chips with Sea Salt while its Imagine brand is moving into new soup formats with four flavours: Red Roasted Pepper and Tomato, Broccoli Cheddar, Golden Lentil, and Black Bean Chili, while new non-dairy condensed soups come in Creme of Mushroom and Creme of No Chicken flavours.
The brand's Chicken Bouillon and Imagine Vegetable Bouillon pastes have been launched in a tube format.
MaraNatha nut butter brand is unveiling single serve packets offered in six varieties including Creamy Almond Butter, No Sugar or Salt Added Almond Butter, Organic Peanut Butter, Coconut Almond Butter, Dark Chocolate Almond Butter and Caramel Almond Butter. In addition, MaraNatha brand is launching Dark Roast Almond Butter and Light Roast Almond Butter.
Plainville Farms' brand of poultry and deli meats made from turkey, chicken and pork is expanding its line-up of natural and USDA organic deli meats to include new pre-sliced Southwestern Turkey and Buffalo Chicken varieties, and a new Oven Roasted Turkey and Black Forest Ham Combo Pack.
It is also introducing new Fresh Dinner Sausage links in new flavours and frozen pre-cooked Sausage Crumbles in Italian, Spinach Feta, and Tex-Mex varieties. Plainville Farms brand is also expanding its line-up of turkey and pork bacon products to include new Slab Bacon.
Sensible Portions Garden Veggie Snacks is introducing its all new organic line in two flavours – Organic Sea Salt Garden Veggie Straws and Organic Ranch Garden Veggie Straws while the Spectrum brand is launching Organic Cold Infused Oils in Organic Rosemary Olive Oil, Organic Cayenne Pepper Olive Oil, and Organic Garlic & Chili Sesame Oil varieties.
The Better Bean brand, acquired by Cultivate last year, is now introducing Better Bean Dips that range from Spicy to Mild while GG Scandinavian Fiber Crispbreads is showcasing the new All-Purpose Scandinavian Baking Mix to use in recipes for pancakes, waffles, and other baked items.
Finally, Tilda brand is adding three new flavours to its ready-to-heat line up: Brown Basmati & Quinoa with Pumpkin & Sunflower Seeds, Coconut Chili & Lemongrass, and Firecracker while the Yves Veggie Cuisine brand is showcasing two new gourmet veggie and grain-based sausages – Kale & Caramelized Onion Veggie Sausage and Mediterranean Harissa Veggie Sausage.
Walmart takes meal kits nationwide in US
The US retail behemoth is to roll out a range of meal kits across more than 2,000 stores.
Walmart sells the kits in 250 outlets; the grocer has developed three types of products to try to tap into consumer interest in meal kits.
The company is selling pre-portioned meal kits, with dishes including steak dijon and sweet chili chicken stir fry; a range of rotisserie chicken meals; and a line of "one-step meals" including cheesy ravioli bake and pot roast.
The meals serve two people and range in price from US$8 to $15.
Hellmann's dressings revamp in UK
Unilever is to relaunch the line of Hellmann's salad dressings it sells in the UK.
The new products will contain "natural ingredients", with Unilever also touting the fact more than half the range "features vegetarian and gluten-free credentials".
Jon Walbancke, the brand building director within Unilever's businesses in the UK and Ireland, said the reformulation sees the company "addressing consumer concerns by using natural ingredients".
He added: "Salads are in exponential growth, but currently just 37% are consumed with an ambient accompaniment. Unilever sees a huge opportunity in this meal segment."
New category for Kellogg's RXBAR
Kellogg is to take its recently-acquired US brand RXBAR into a new category in the country.
The cereal and snacks giant snapped up RXBAR owner Chicago Bar Company in October. Kellogg said at the time RXBAR was the "fastest-growing nutrition bar brand" in the US, making "clean-label" protein bars with a base of egg whites, fruit and nuts.
The Special K and Pringles maker has decided to launch an RXBAR-branded nut butter.
"We saw an opportunity to bring high-value nutritional ingredients to other categories outside of the bar space. Using egg whites and dates as part of our core ingredients differentiates our product," a spokesperson for RXBAR said of the new RX Nut Butters.
The nut butters include a base of nuts – peanut or almond – and are sold in pouches. Each pouch contains nine grams of protein in 180 calories. Three flavours are being rolled out – peanut butter; honey cinnamon peanut butter; and vanilla almond butter
The nut butters will be available from May on RXBAR.com and Amazon. The company said the butters would be "hitting store shelves in the months ahead".
O'Dang launches hummus dressings
Florida-based O'Dang Hummus has launched a range of dressings based on the chick pea dip.
Its line of hummus dressings will be available throughout the US at nearly 2,000 Walmart stores beginning later this month. The six 12-ounce flavours are Ranch, Buffalo Ranch, Honey Mustard, Caesar, Roasted Red Pepper and Greek Tzatziki.
Jesse Wolfe, founder and CEO of O'Dang Hummus, said: "We are thrilled that Walmart is our launch partner for O'Dang Hummus dressings"
The fewer calorie' dressing line is gluten-free, preservative-free and free of high fructose corn syrup. Because the line is vegetable-based, the dressings range from 25 to 45 calories and are naturally lower in fat than the leading dressing brands. 100% US-Grown, non-GMO chic kpeas are the first ingredient on the label,
Details of additional national retailers to carry O'Dang Hummus dressings will follow later this year.
Loblaw launches insect protein line
Canada-based retail giant Loblaw is eyeing nascent demand for insect-based products with the launch of a line under its flagship own label President's Choice.
Loblaw is rolling out President's Choice 100% Cricket Powder. Developed at a cricket farm in Canada, Loblaw said the product "answers the need for great tasting protein, produced in a more sustainable manner".
Kathlyne Ross, vice president of product development and innovation at Loblaw, added: "With our President's Choice brand we're always looking to bring the new and the next to Canadians. By making products like Cricket Powder widely available in our grocery stores, we are giving Canadians the option to not only try something new, but to also make a conscious decision on what they eat and how it impacts the environment."
Cerealto in "healthy biscuits" push
Spain-based food manufacturer Cerealto has launched a range of "healthy biscuits" under the Siro brand.
The company said the range includes a variety of sugar-free biscuits, as well as a line made with "healthier fats", such as high oleic sunflower oil.
The range is available in an "on the go" format or in a single-serve "portion control" packs. Cerealto said the biscuits are being stocked by retailers such as Sainsbury's in the UK and HEB in the US.
The Siro brand, owned by Grupo Siro and for which Cerealto has held the marketing licence since 2014, is spans a number of categories: biscuits, crackers, cereal bars and snacks.
Unilever launches plant-based snacks brand
FMCG giant Unilever is introducing a new plant-based snacks brand into the US market.
The Growing Roots product line includes snack bites and clusters made from organic ingredients like coconut, corn and seeds.
Unilever said half the profits made from Growing Roots would "support urban farming" in the country. In 2015, Unilever joined a public-private partnership with the city of New York to create six urban farms in the Big Apple, which the company says have generated approximately 32,000 pounds of organic produce.
"What's so special about Growing Roots is that it started as a social mission that our employees were passionate about, borne from the belief that everyone should have access to affordable, nutritious food," Matthew McCarthy, vice president of Unilever's food business in North America, said. "Seeing the transformational impact urban farms have in communities, we created a brand from the ground up to help fulfill and extend that mission."
US firm Bubbies to launch vegan mochi
Bubbies Homemade Ice Cream & Desserts, the US-based supplier of mochi ice cream, is launching its first vegan version of the products.
The company said the mochi ice cream, which it is showcasing at this week's Expo West trade show in California, has a "dairy-free frozen dessert filling".
It has developed four flavours – mango, cherry, vanilla and mint.
Asked which retailers have agreed to list the new product, CEO Rick Schaffer said: "We do have a very large customer who has authorised the product but I can't reveal that just yet for confidential reasons."
November 2017 interview: Mochi ice-cream maker Bubbies Homemade Ice Cream & Desserts sets out stall