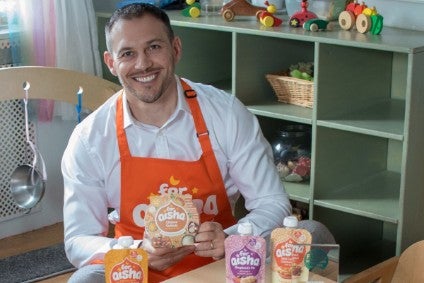 For Aisha has received an undisclosed amount of funding from the UK government's investment programme for small enterprises as the Nottingham-based maker of halal baby foods seeks to move the business forward and expand its product range.
Relaunched in 2015 after founder and managing director Mark Salter bought the firm out of administration, the financing was supplied by the Enterprise Finance Guarantee scheme, which provides business loans 75%-backed by the UK government.
Salter told just-food yesterday (25 July) he could not reveal the amount of financing received as this was the first round of funding. "We have much larger expansion plans on the horizon and that does involve a greater cash injection," he said, adding that more details will be disclosed later in the year.
Still, he is targeting a turnover of GBP1.5m (US$2m) for 2018, having achieved annual sales growth of 60% last year.
For Aisha manufactures a range of baby foods using halal meat from British farms approved by UK-based quality standards agency Red Tractor.
Its portfolio also includes vegan and vegetarian, and a host of free-from products, including a dairy-free, gluten-free and egg-free assortment, all with no added sugar or salt, and without artificial additives or preservatives.
While For Aisha has listings with most of the major UK supermarkets, Salter said the company secured a national deal with Sainsbury's in April for all 14 of its products. It also launched its range of Stage4 toddler tray meals that month.
And in September, the firm will roll out another new range nationally with "two leading retailers", but the "detail is top secret" at this stage, Salter pointed out.
Salter said For Aisha's strategy predominately focused on the UK last year. In an interview with just-food in June 2017, he said the company was present in 19 markets outside the UK, but described those as "really small amounts because they're just floating".
just-food interview from 2017: The next steps for UK baby food firm For Aisha