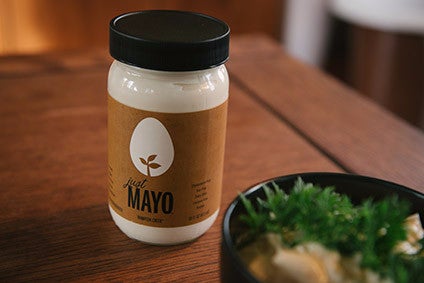 The CEO of Hampton Creek has hit back at claims the US eggless Mayo maker used employees to support an undercover operation to buy hundreds of jars of flagship product Just Mayo while investors were sought to buy equity in the fledgling firm.
The claims were made following an investigation by Bloomberg, which said it had evidence of a "large-scale operation by Hampton Creek to buy back its own mayo, which made the product appear more popular than it really was".
According to the newswire, Hampton Creek bosses "quietly launched a campaign to purchase mass quantities of Just Mayo from stores, according to five former workers and more than 250 receipts, expense reports, cash advances and e-mails reviewed by Bloomberg".
Bloomberg claimed contractors were also told to call store managers, "pretending they were customers and ask about Just Mayo", in addition to buying up hundreds of jars of the product across the US. "Strong demand for a product typically prompts retailers to order more and stock it in additional stores," Bloomberg said.
However, Hampton Creek CEO Josh Tetrick rejected the accusations and insisted the company had only sought to improve its quality control and quality assurance procedures, which he said was common practice for any start-up.
Tetrick told CNBC: "We did absolutely have people call saying they were stoked about the company and the product. It didn't really have any impact on what we were doing with the retailers, but as a young company you do everything you can to survive in the early days. We didn't break any laws, we were open… we need to step back and look at the context of this."
He argued it was "incredibly misleading" to suggest the project was designed to influence potential investors in the company.
Tetrick said Hampton Creek had spent just US$77,000 on the buy-up project, which he said was less than "the company has spent on snacks this year". He said the project began in 2013, "the bulk of it ended in 2014 and to some extent we still do it today".
In addition to using employees, Tetrick said the company had used contractors and volunteers for the project. The primary purpose was to identify and fix initial issues with product packaging such as poorly affixed labels and lids. But he said: "As a secondary reason, and much more unimportant reason that I have always been open about, we wanted to see right in the beginning if we could get a little lift. It turned out not to have any impact at all. There are elements that we absolutely still do today… getting perfect as a young company is always what has to be done."
Asked how Hampton Creek accounted for sales and acquisitions of products it purchased as part of the project, Tetrick said: "Well of course we expensed it, as one would expect. We are not farmers' markets, we're selling in thousands of stores all across the country. In this 'great mayo buyout in 2014' as reported by Bloomberg ,it was noted that 'hundreds of jars were not accounted for'."
However, Tetrick said: "We sell millions of jars. Everything we've done we've always been open about it. The primary purpose was QA and QC. It made us so much better and, if I had to go back and do it again, of course I would do it again."
Hampton Creek is touted as an example of a food start-up that has grown rapidly by tapping into changing consumer trends in the US. However, the company has found itself at the centre of controversy before. In 2014, Hampton Creek was embroiled in a battle with Unilever over the labelling of Just Mayo. Unilever claimed the egg-free product violated labelling regulations.
The Hellmann's maker filed a lawsuit against the company in November 2014. Unilever later dropped the suit and subsequently launched its own egg-free mayonnaise or "dressing". Hampton Creek was investigated by the US Food and Drug Administration over the claims. The FDA later ruled Hampton Creek could continue to use the Just Mayo name on its eggless mayo.
Hampton Creek was reportedly looking to raise fresh capital to fund expansion plans in May.