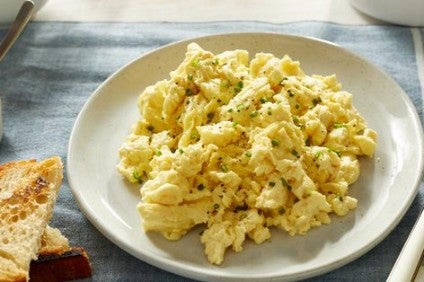 just-food publishes the most notable product development from the international food sector, presented in bitesize format to give you a flavour of the innovation from your peers and competitors announced this week.
Hampton Creek launches Just Scramble
US lab-produced food company Hampton Creek has unveiled its latest product – Just Scramble.
The scrambled egg substitute will be launched first to foodservice clients in Hampton Creek's home base of San Francisco and then rolled out to additional locations and cities in 2018.
Hampton Creek said Just Scramble tastes like egg, is free of antibiotics and cholesterol, and its ingredients require less water and emit fewer carbon emissions than conventional eggs.
The product is made from mung bean, which Hampton Creek said scrambles like egg.
Hampton Creek co-founder and CEO Josh Tetrick said: "Launching Just Scramble is the culmination of years of hard work by our talented team."
Oh My Good Nosh launches ready meal range
New UK brand Oh My Good Nosh has launched a range of "contemporary and urban ready meals, soups and fresh meal kits, as well as mini pastry lunch bites".
They will be available in more than 300 stores across England and Wales, including branches of Tesco and Sainsbury's.
The range comprises of 15 convenience products, many of which are under 500 calories, and spans world cuisines including Syrian, Indonesian, Italian, Jamaican, Thai and Mexican.

The launch of Oh My Good Nosh will be marked with two charity collaborations: All profits made in December from sales of its meals at Sainsbury's in Ladbroke Grove, London, will go to support the victims of the Grenfell Tower fire, while 100% of all profits from sales of its Chicken Kabsa will be donated to Unicef to help provide emergency food parcels to the millions of children affected by the conflict in Syria.
The ready meals are available now with the rest of the range in store by the end of the year. The RRP is GBP2.50 (US$3.35) for soups and pastry lunch bites, GBP3.25 for ready meals and GBP6.50 for the fresh meal kits.
Rachel's Organic launches natural yogurt range
UK dairy brand Rachel's Organic has launched the Best Tasting Organic Natural yogurt range.
The Welsh company, a subsidiary of France's Lactalis, said the range has been independently verified by consumers as the best tasting organic natural yogurts on the market.

The new range is made from 100% organic Welsh milk sourced from Rachel's local farmers and features a newly formulated recipe.

It is made up of two flavours: Rachel's Best Tasting Organic Natural and Rachel's Best Tasting 0% Fat Organic Natural.

Daniel Wheeler, marketing manager at Lactalis Nestle Chilled Dairy, said: "We have always strived to provide consumers with the highest quality, best tasting premium organic dairy products, and with our new range of natural yogurt we can officially say we have the 'Best Tasting Organic Natural yogurt" on the market."
Rachel's Best Tasting Organic Natural yogurt range is available in Waitrose, with an RRP of GBP1.65 (US$2.21) for a 500g pot.
Fazer Cricket Bread leaps onto shelves in Finland after ban lifted
For all cricket fans out there, Finland's Fazer is about to introduce Sirkkaleipa bread into 11 of its in-store bakeries on Friday (24 November). But the hand-made artisan breads will appeal more to insect lovers than to those of the sporting variety.
Translated as Fazer Cricket Bread, the food group plans to roll out Sirkkaleipa into all 47 of its stores in the "next wave" after Finland removed a ban on using crickets as food on 1 November.
The company explained that the crickets are dried, ground into powder and added to the flour. Each loaf contains 70 of what it says are "house" crickets, but it did not elaborate more on the source.
Fazer added that cricket bread is a good source of protein as insects contain fatty acids, calcium, iron and vitamin B12.
Prewett's gluten-free Chocoful Caramel bars add to biscuit range
New gluten-free Chocoful Caramel bars from UK health-food company Prewett's are now available in Asda supermarkets.
The crunchy biscuit bars, which are packed with caramel chunks and coated in creamy milk chocolate, come in a 100 gram box of five.
"It is ideal as a lunchtime treat or as a quick 'on-the-go' snack, providing gluten-free consumers with a great new alternative in the market place," said David Wood, business improvement director of Northumbrian Fine Foods, which owns the Prewett's brand.
General Mills eyes indulgence with Liberté Excellence
General Mills is leaning on indulgence with its new Liberté Excellence yogurts made from fresh milk and cream layered on either salted caramel or lemon.
Available now in Asda, Liberté Excellence has 9% fat but no artificial colours or flavours, and is positioned as a "permissible indulgence" option for those looking to balance a treat with health needs.
General Mills is presenting the new yogurt range in 440gram resealable pots at a recommended retail price of GBP2 (US$2.6).
Doritos Crunch Nuts and Crunch Mix take on US snackers
Doritos fans in the US have new options to enjoy as PepsiCo extends the popular Nacho Cheese and Cool Ranch flavours into peanut snacking.
Doritos Crunch Nuts and Doritos Crunch Mix are now available, giving consumers "another way to enjoy our boldest and longest-standing flavours", PepsiCo said.
The new range includes roasted peanuts wrapped in a crunchy shell and come in both flavours. The Doritos Crunch Mix product contains the same nuts but adds 3D-triangles, puffs, pretzel bites and corn sticks to the mix.
They are available in 3 ounce packs at a recommended price of US$1.99.