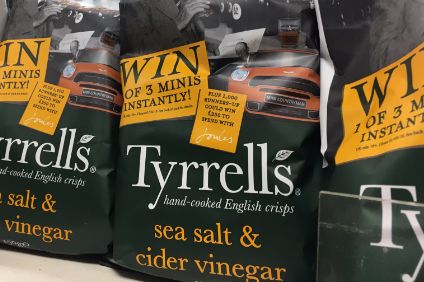 Auditors of New Zealand's Hansells Food Group have once again questioned the viability of the loss-making firm as the company's liabilities continue to exceed its assets.
Auckland-based Hansells Food, which went into receivership in 2015 before being taken over by Thai tycoon Varapong Supachok, posted a NZD6.8m (US$4.9m) loss in the 12 months through March, narrowing from NZD9.4m and NZD8.6m, respectively, in the preceding two years.
Still, auditors BDO Auckland noted that the New Zealand distributor for Tyrrells crisps and The Coconut Collaborative yogurts had total current liabilities of NZD59.4m compared to NZD25m in assets, according to the annual results signed off by Hansells Food directors on 31 August.
Supachok is the majority owner of Hansells Food, which operates in Australia and the UK, as well as New Zealand, with a 66% stake, while managing director and founder Ross MacKenzie holds 21%. The Thai company Kasisuri Co, for whom Supachok is also a director and shareholder, owns 5%.
In its independent auditors report to shareholders, BDO Auckland said the figures "indicate that a material uncertainty exists that may cast significant doubt on the group's ability to continue as a going concern". The negative working capital balance includes trade payables and interest-bearing loans and borrowings owed to Kasisuri of almost NZD42m, the report noted.

BDO went on to say: "In preparing the consolidated financial statements, the directors are responsible on behalf of the group for assessing the group's ability to continue as a going concern, disclosing, as applicable, matters related to going concern and using the going concern basis of accounting unless the directors either intend to liquidate the group or cease operations, or have no realistic alternative but to do so."
Auditors flagged the same concerns last year at the end of the annual accounting period, when both liabilities and assets of Hansells Food were higher at NZD65m and NZD34m, respectively.
The company, which was previously Old Fashioned Foods, posted revenue for the current reporting period of almost NZD104m, down 15% from a year earlier. Its operating loss narrowed to NZD2.7m from NZD3.4m.
The auditors' notes said the directors of Hansells Food have "received continued support letters" from Kasisuri and Supachok, confirming they will not withdraw their support.
"The ability of the group to continue to pay its creditors as they fall due whilst having a significant working capital deficit has been considered by the directors in the adoption of the going concern assumption during the preparation of these consolidated financial statements."