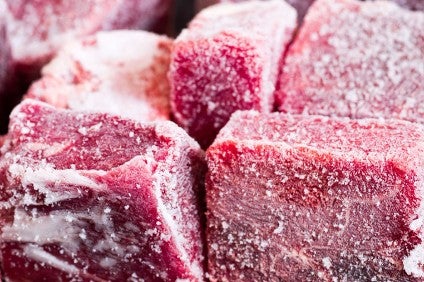 A hard-hitting report from the European meat and livestock organisation UECBV has warned of the "catastrophic impact" a so-called hard Brexit would have on the UK and EU meat industries.
The Brussels-based industry body suggested British meat exports to the EU would fall by 90% and lamb exports by 53% in a hard Brexit scenario (one in which the UK leaves the European Union next March without a trade deal).
The report – Crisis – The EU Meat Industry in a Hard Brexit Scenario – concluded that a 'no-deal' outcome would lead to a collapse in trade.
UECBV's president, Philippe Borremans, said: "By potentially cutting off one of the largest and highest value meat markets in Europe, Brexit threatens to be catastrophic for the industry across Europe and the UK.
"In the worst case scenario, in which no deal between the EU and the UK is agreed, the impact on the meat sector will be monumental, due to the particular exposure of this sector to tariff costs, veterinary checks and increased customs and transport costs."
UECBV commissioned the organisation Red Flag to undertake the analysis.
"The findings confirm our worst fears: a hard Brexit would send shock waves through the European meat industry, eliminating jobs, increasing consumer prices and destroying the livelihood of small business owners working in the meat sector," Borremans said.
UECBV argues that it would be "very difficult" for UK suppliers to find an alternative market for its products domestically as the UK tends to export cheaper cuts not demanded locally.
This will in turn hurt British farmers and businesses, leading to job losses across the UK, it said.
The report suggested similar reductions of meat imports from the EU will lead to shortfalls in the UK supply of beef, pork and sheep products, especially higher value cuts such as steak, bacon and leg of lamb.
The report warns that this will lead to "massive" price increases for British consumers on meat products, pricing traditional British meals out of reach for families.
It also suggests that a hard Brexit will have a profoundly negative impact on the European meat market given the major trade flows between the remaining 27 EU countries and the UK.
Borremans added: "The scale of this problem is too great to ignore, and we implore policymakers to recognise the catastrophic impact of a hard Brexit for the meat sector, to follow through on the recommendations put forward in this report and to protect this vital European sector."
Those recommendations include a transitional period to allow businesses to adjust to new arrangements and a future trading relationship that creates minimal burden for business.
It also recommends a continued regulatory convergence between UK and EU and market support mechanisms, including increased market access, internationally simplified transit systems, and investment in port facilities.