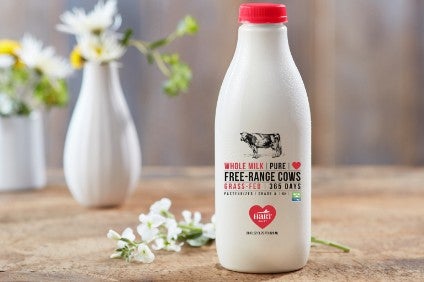 Hart Dairy, the fledgling US firm offering grass-fed milk, has attracted new investment the company plans to use to enhance its brand positioning and strategy.
The funding, of an undisclosed amount, has come from venture-capital firm Next Gen Nutrition (NGN).
The Georgia company, which describes itself as "the ethically driven, largest single-source producer of 100% free-range, grass-fed milk in North America", has also brought in NGN partners James Cali and Andrew Towle as chief marketing advisers. They become board members.
Cali and Towle launched NGN earlier this year to "capitalise on high-growth, disruptive and early-stage food and beverage companies that offer superior nutrition with a reduced impact on the planet".
Cali has previously worked for major food companies including Mondelez International and Kellogg. Towle has also worked for Kellogg as well as CPG giant Procter & Gamble.
Tim Connell, CEO of Hart Dairy, said: "We are delighted that both James and Andrew will join the Hart Dairy team as investors and strategic advisers. We will benefit from their partnership and long-standing industry expertise to strengthen our overall business as we further develop our brand positioning and messaging while we continue to expand our retail footprint.
"Their 60 years of collective experience will be invaluable to our company and help us further attract world-class talent to our growing team, along with new business opportunities."
Cali said: "We believe strongly in the future of Hart Dairy. Their 365-day grass-fed programme and regenerative agriculture regime improve milk's nutrition and have a positive impact on the planet. These are strong consumer benefits, which we are proud to invest in."
A year ago, Hart Dairy attracted seed funding of US$10m in a round led by Australia-based Alium Capital.