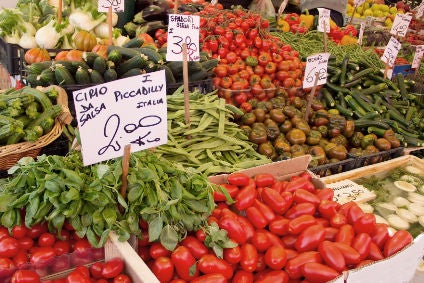 The UK's food supply could be "seriously damaged" unless robust customs controls are negotiated with the European Union (EU) as London prepares to invoke Article 50 triggering the Brexit process, Britain's Road Haulage Association (RHA) has warned.
That move took a significant step forward on 9 February when the UK's House of Commons passed the third reading of the European Union (Notification of Withdrawal) Bill, with the government securing a majority of 372, although the 122 voting against contained a significant number of rebels both on Conservative and Labour sides of the House.
But the RHA is raising concerns echoed by many in both automotive and non-related sectors concerning the future impact any exit from Customs Unions rules could have on freight transport, in this particular case, food.
The body is cautioning of "serious damage" to food supplies, of which 30% enter the UK by lorry, with potential customs problems "crippling" supply chains, citing the current shortage of fresh produce in Britain.
"Nearly 30% of all food consumed in the UK comes from the EU and it all arrives in lorries," said RHA chief executive, Richard Burnett. "At the moment, the process is seamless –  it's as easy to deliver from Milan to Manchester as it is from Manchester to Leeds as far as customs processes are concerned."
"After Brexit, that will no longer be the case, and we have to get the new processes right," Burnett said. "Otherwise the system for getting food into the country could grind to a halt."  
The RHA fears massive queues of lorries could build up at ports with not enough experienced staff to cope with a backlog while fresh food supplies potentially rot.
"We are not reassured by recent government statements," added Burnett. "The White Paper suggests HMRC [Her Majesty's Revenue & Customs] has a world-class customs service. For EU continental road haulage it has no system. It will face new challenges and government must recognise that and assure business HMRC will have whatever resources it requires to get the job done." 
British Prime Minister Theresa May said recently the UK should secure the "greatest possible access to the Single Market, on a fully reciprocal basis, through a comprehensive Free Trade Agreement," with possible Single Market arrangements, although it is by no means clear what this could entail.
May insisted she wanted Britain to have tariff-free trade with Europe and cross-border trade there to be as "frictionless" as possible, but now the Bill has passed one of its most significant hurdles, it is manifest intense horse-trading will now start in EU capitals as industries jockey for favour in their individual sectors.
"The RHA welcomes the government's commitment to cross-border trade being as frictionless as possible," noted Burnett. "But customs process for containers and air freight will not work for the millions of trucks that move through Dover and our ports."
Burnett said: "There are nearly 4.5m journeys between the UK and Europe each year that are HMRC-free at the moment. These trucks carry jobs, components [and] products – and 30% of our food."
HMRC was not immediately available for comment.