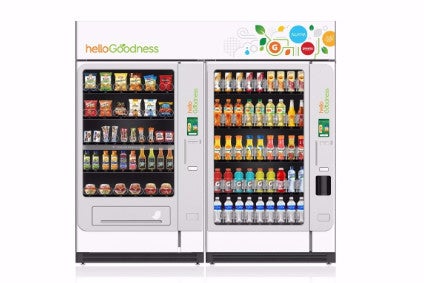 PepsiCo has launched a vending machine in the US that gives consumers detailed nutritional information on each product.
The "smart technology" Hello Goodness platform, which aims to offset obesity concerns over PepsiCo products, also suggests food and snack pairing ideas and sends consumer data back to the company to help shape strategy.
PepsiCo said the products inside will come from its healthier ranges such as Smartfood Delight popcorn, Lay's Oven Baked potato chips, Quaker Real Medleys bars and Sabra Ready-to-Eat houmous cups
"Consumers want more choice when it comes to what they eat and drink on-the-go and we're providing the choices they want," said Kirk Tanner, chief operating officer for PepsiCo's North American beverages business. "For years, PepsiCo has been transforming its portfolio to offer more and better food and beverages. We're continuing this journey with our new Hello Goodness vending initiative."
The vending machines carry both snacks and beverages, though an-all beverage one is available, PepsiCo said. The company will place "several thousand units" throughout the US next year in locations including healthcare, recreational, transportation, governmental, workplace and educational facilities.