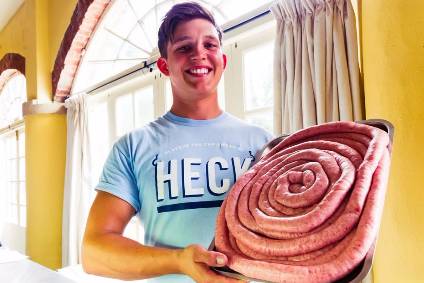 Family-owned UK sausage firm Heck is investing GBP3.5m (US$4.3m) in a new facility in North Yorkshire to expand its product range, a move that will create 50 jobs.
Heck said the new 1,985 sq m sausage factory in Sinderby, which is nearing completion, will have "four to five production lines, plus room for expansion". The company's existing facility in nearby Leeming Bar as two lines, which will continue operating.
The business, which employs 70 staff, said it is recruiting for posts in purchasing, production, finance and HR. Heck co-founder Andrew Keeble said: "Of course, there are specialist roles within the business but we're very open to the idea of people changing career paths."
Heck said the company "has grown at a phenomenal pace" since it was launched by the Keeble family four years ago "and is on track to turn over GBP18m this year thanks to its creative recipes and healthy innovation including lower fat chicken and meat-free lines".
In 2014, Panoramic Growth Equity invested GBP1m (US$1.2m) in Heck for a 25% stake in the business.