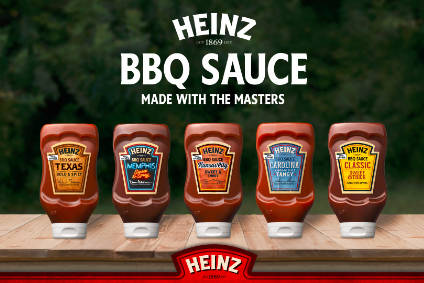 Kraft Heinz has launched a range of regional barbecue sauces which it has developed with barbecue experts now well known to the American public through reality TV show BBQ Pitmasters.
The five flavours launching in the US market are: Kansas City Sweet & Smoky, Memphis Sweet & Spicy, Texas Bold & Spicy, Carolina Tangy Vinegar and Heinz Classic Sweet & Thick.
The company is supporting the launch with a campaign bearing the tagline "Pitmasters, not Spokespeople", which features Heinz' "Pitmaster Partners" in the venture.
As part of the campaign, a TV ad in the style of a "blooper reel" shows the respective barbecue experts falling some way short in their ability to promote their respective sauces in front of the camera.
All five sauces come in 20oz upside-down squeezable bottles, with a suggested retail price of US$2.49. A "Pitmaster Collection" sampler four-pack, comprising 11oz sampler bottles of the Kansas City, Memphis, Texas and Carolina sauces is also available.