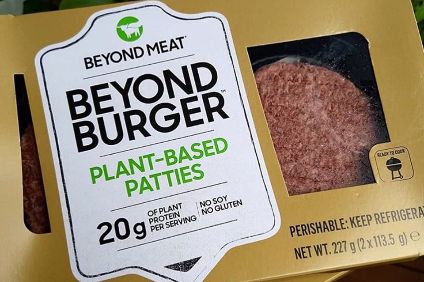 HelloFresh, the meal-kit maker founded in Germany in 2011, is adding plant-based burgers from meat alternative firm Beyond Meat to its menu.
The Beyond Burger, the debut product from US-based Beyond Meat, which saw a surge in investor demand for its inaugural public share offering in May, will be included in HelloFresh's meal range in the US. The burgers will feature in the first recipe – Goudalicious Beyond Burgers paired with Potato Wedges and Creamy Mustard Aioli – during the week of 14 September.
In Canada, the Beyond Burger appeared on HelloFresh's menu in July.
Marcel Comtois, the vice president of procurement for HelloFresh in the US, said in a statement: "We are always looking to expand our menu offerings and provide customers with exciting new recipe choices that appeal to a variety of palates and eating preferences. With the addition of the Beyond Burger to our menus, we're excited to give our home cooks the opportunity to discover new ways of cooking delicious burgers using this innovative plant-based protein."
Beyond Meat's plant-based burgers were reputed to be the world's first but have since been followed by a host of other companies entering the space. The Beyond Burger is free of GMOs, gluten and soy, and contain 20 grams of plant proteins derived from peas, mung beans and brown rice.
Ethan Brown, Beyond Meat's founder and CEO, added: "We're very pleased to partner with HelloFresh to bring the Beyond Burger to more families across North America. We know that tasting is believing, and this partnership will enable more consumers to experience the meaty taste and juicy texture of the Beyond Burger while enjoying the added nutritional and environmental benefits of consuming plant-based protein."
HelloFresh launched in the US in 2013.