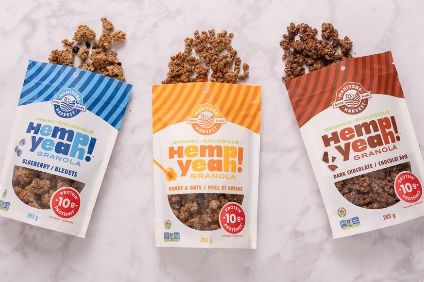 Manitoba Harvest, the Canada-based hemp-foods business, has accepted a takeover offer from Tilray, a local peer producing and distributing cannabis.
Tilray has struck a cash-and-shares deal to pay CAD419m (US$314.6m) for FHF Holdings, the parent company of Manitoba Holdings, which it described as "the world's largest hemp food manufacturer and a leader in the natural foods industry".
Set up in 1998, Manitoba Harvest manufactures and markets hemp-based consumer products sold in more than 16,000 stores in Canada and the US. The company's products include Hemp Yeah granola and Hemp Bliss milk.
Announcing the deal, Tilray said the acquisition would help it expand its product portfolio into the natural foods category and give Manitoba Harvest experience in working with cannabinoids, including the non-psychoactive cannabidiol (CBD).
Tilray wants to use Manitoba Harvest's distribution network to accelerate its own expansion into the parts of US and Canada where CBD products are legal.
"Tilray's acquisition of Manitoba Harvest is a milestone for the cannabis industry," Brendan Kennedy, Tilray's president and CEO, said. "We're excited to work with Manitoba Harvest to develop and distribute a diverse portfolio of branded hemp-derived CBD food and wellness products in the US and Canada."
Bill Chiasson, Manitoba Harvest's CEO, argued together the companies would "be able to accelerate our mission of transforming consumer health through the power of hemp".
Tilray will pay CAD277.5m when the deal closes, with CAD150m in cash and CAD127.5m in its shares. Six months after the deal is sealed, Tilray will pay a further CAD92.5m, made up of CAD50m in cash and CAD42.5m in Shares.
The company plans to issue another tranche of shares, worth CAD49m, based on Manitoba Harvest hitting certain "performance milestones in 2019".
Compass Group Diversified Holdings bought 87% of Manitoba Harvest for CAD132.5m in 2015 and helped the business grow listings, which now include retailers such as Walmart, Costco and Amazon.
Hemp is a type of cannabis that has lower concentrations of the psychoactive component tetrahydrocannabinol (THC) but higher amounts of the non-psychoactive CBD. Industrial hemp was legalised last year in the US as part of the country's 2018 farm bill.