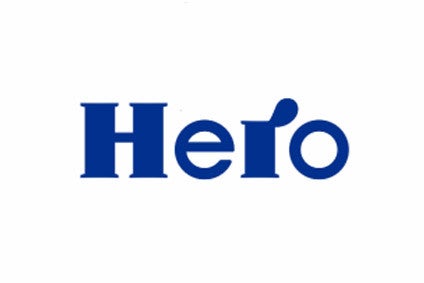 Hero Group has reported mixed results for 2015, with the Switzerland-based baby food-to-jam maker seeing its top-line hit by the strength of the Swiss franc, its underlying sales grow but its profit metrics affected by one-off items.
The company, which owns brands including Sunar and Beech-Nut, reported net sales of CHF1.26bn (US$1.29bn), down 5.9% on the CHF1.34bn it generated in 2014.
Hero's operating profit stood at CHF108.2m, up sharply from the CHF65m booked in 2014. The group pointed to "portfolio optimisation, realized cost efficiencies, as well reduced sugar and milk prices". However, Hero also said, unlike in previous years, the 2015 results contained no impairment charges.
However, Hero's net profit fell from CHF112.4m in 2014 to CHF71.6m as the company lapped a year when its bottom line was boosted by the disposal of shares in Huishan Dairy. Hero sold shares in Huishan after investing in the Chinese group's IPO.
Hero said its results were "seriously affected" by the Swiss National Bank's move in 2015 to abandon the Swiss franc minimum exchange rate.
Nevertheless, it reported a 1.7% increase in sales on an organic basis. The company said sales from brands grew 3.1%.
Sales from Hero's baby and toddler food business, the company's largest, fell 1.3% on an organic basis due to "a strong reduction in non-branded business". Hero said sales from its brands grew 3.3% on an organic basis.
"The year was characterised by challenging market conditions, compounded further by the SNB decision. Despite all this, we were able to produce strongly improved results and can report that 2015 was an encouraging step towards sustainable profitable growth. The results are perfectly in line with our strategy," CEO Rob Versloot said.