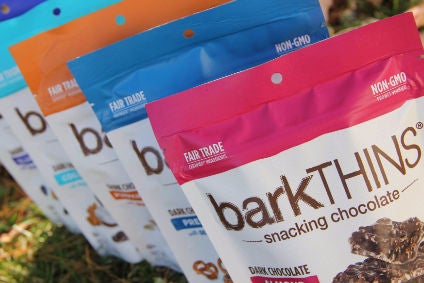 Hershey has snapped up Ripple Brand Collective, the US firm behind the BarkThins snack brand.
Ripple Brand Collective, based in Congers in New York state, was set up in 2013. The company's annual net sales are expected to be between US$65m in US$75m in 2016, Hershey said. The BarkThins brand is "largely sold in the US in take-home resealable packages and is available in the club channel as well as select natural and conventional grocers", the confectionery giant added in a statement. No financial details on the deal were disclosed.
The deal sees Hershey again turn to M&A to broaden its portfolio in the US by acquiring a smaller, faster-growing company that has tapped into evolving consumer trends in the country. Last year, Hershey bought US jerky firm Krave Pure Foods.
Hershey also announced first-quarter results today (26 April) that included a 4.4% year-on-year fall in net sales on a constant-currency basis. The company pointed to "a shorter Easter season" and lower sales in China. Hershey also cut its 2016 forecasts for underlying sales and earnings per share.
Michele Buck, the president of Hershey's business in North America, claimed the BarkThins brand had "essentially created a new form of chocolate snacking".
Buck said: "This acquisition is a great addition to our Hershey chocolate portfolio and enables us to expand our mass premium offerings into this growing and on-trend category. BarkThins has quickly become a favourite snack brand due to its commitment to using simple ingredients, fair trade cocoa, non-GMO certification, and no artificial flavours or preservatives. BarkThins addresses key consumer trends, such as premium, high-quality ingredients and snacking."
Scott Semel, founder and CEO of Ripple Brand Collective, said the sale to Hershey would herald "the next phase of accelerated growth" for the business. He added: "Our unique proposition, brand equity, and outstanding team give us confidence that there is tremendous upside for BarkThins with a confectionery leader like Hershey."
The sale of smaller companies can often attract concern from consumers anxious about the prospects for the brands under the ownership of major consumer packaged goods companies. A statement announcing the deal on the BarkThins Facebook page read: "We're honoured and excited to be a part of the Hershey family. The commitment to our core brand values will never waiver, and with this partnership, will only strengthen. ?#‎snackingelevated?."