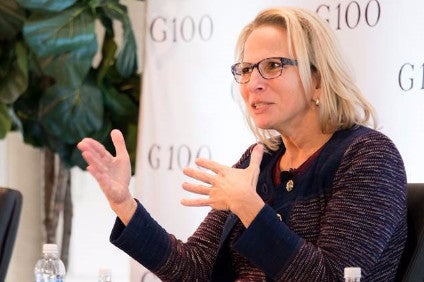 New Hershey CEO Michele Buck has announced her leadership team – which is set to see the return of the role of chief growth officer at the confectionery giant.
The Reese's maker is set to appoint a new chief growth officer, who will head up a series of areas, including M&A.
"The Hershey Company has undertaken a search for a chief growth officer who will lead Hershey's insights and analytics, strategy, marketing excellence functions, innovation, research and development, mergers and acquisitions and The Hershey Experience. The company has identified an external candidate who is expected to join the team this spring," the company said in a statement yesterday (23 February).
The Hershey Experience includes the company's travel retail operations.
Hershey last had a chief growth officer in 2015 when Mike Wege became the company's chief administrative officer. Buck was Hershey's chief growth officer between September 2011 and May 2013.
Among the appointments to Buck's new executive team are Unilever executive Todd Tillemans become the president of Hershey's operations in the US. Tillemans, who has worked for Unilever for over two decades, will join Hershey on 3 April.
Steven Schiller, the president of Hershey's business in Asia, will move the role of president of Hershey's international operations. He will continue to oversee markets in Asia, including China.
Hershey is set to hold its annual investor day next week (1 March).