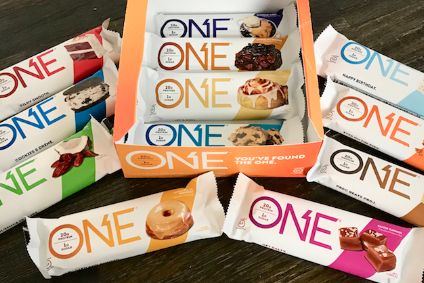 Hershey CEO Michele Buck has identified where she sees the "real sweet spot" in the US snack-bar market as the confectionery giant announced its third-quarter results.
The Reese's owner snapped up North Carolina-based One Brands, a manufacturer of low-sugar, high-protein healthy snack bars, in August for US$397m. The deal built on the earlier acquisition of natural snacking company Pirate Brands and its Pirate's Booty label from B&G Foods.
More recently, US-listed Hershey took a minority stake in Fulfil, another better-for-you snack producer based in Ireland that Buck described this week as a "disruptive" brand.
Giving an overview of the recent acquisitions on Hershey's results call yesterday (24 October), Buck said: "What we really liked about it [One Brands] is it's very consistent and fits right into our stated desire for scale to growing assets in attractive categories that give us access to incremental snacking occasions. High-protein, low-sugar, it provides on-the-go convenience, and it also gives us a play in the morning snacking occasion where we are underdeveloped.
"We continue to be excited with the growth that we are seeing in that [healthy] snack-bar segment and particularly if you look across total snack bars, and if you really dissect that market, you see that the real sweet spot that has the strongest growth is high-protein, and particularly high-protein with low sugar."
Buck said One Brands has "good margins" similar to its own, and Hershey will "capture any opportunities for supply chain and procurement synergy". She added One Brands' sales are growing 40% to 50% and the company has a "strong presence outside of measured channels, including a robust e-commerce business".
Hershey's third-quarter results showed a 2.6% increase in the top line amid price increases initiated in the North American market. CFO Steve Voskuil said the same metric should round out full-year sales of 2.5% "driven by the acquisition of One Brands".
Voskuil said the transaction for One Brands closed in mid-September and the business generates net sales of around $100m. Hershey expects the deal to contribute about $25m in sales for the fourth quarter, with the CFO adding that the "margin profile on this portfolio is attractive".
On Pirate's Booty, Buck said the business picked up from the first half, although the performance is still not at the desired levels. And on SkinnyPop, the popcorn line inherited by Hershey in its 2017 deal for US-based Amplify Snack Brands, "continues to perform very well in the marketplace".
Retail sales for SkinnyPop climbed 10% in the third quarter, "significantly" outpacing the competition, and resulting in a market share gain in the region of 170 basis points, she said.
Peering into pricing actions, CFO Voskuil said Hershey raised prices in the North American market last year – the effects of which are still filtering through the business – and again in July this year.
The 1.6% increase in third-quarter organic sales on a constant-currency basis was driven by pricing, which contributed 1.1 percentage points to the group's growth, he explained, while volume contributed 50 basis points.
In North America, sales rose 2.7%, with "price realisation" a 150 basis-point benefit, while the net impact of acquisitions and divestitures was also 150 basis points.
Voskuil added: "Our 2018 price increase remains on-track and as anticipated, the impact increased in the third quarter versus the first half. This was offset by our pricing transition period related to our July 2019 price increase, which executed in-line with expectations. We continue to expect minimal full-year sales and earnings impacts from our most recent pricing action."
Buck concluded on the pricing actions: Hershey "believes strategic pricing is an important lever for us to enable investment in our brands and capabilities".