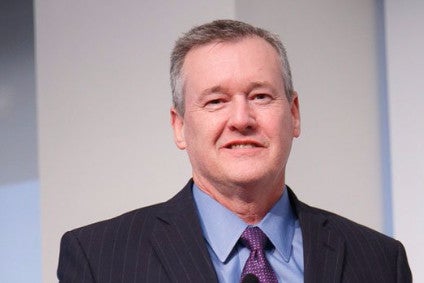 Hershey has confirmed J.P. Bilbrey, the US confectionery giant's chairman, president and CEO, is to retire from the business next year.
Reports in the US yesterday (13 October) claimed Bilbrey was preparing to step down next summer. In a statement issued today (14 October), Hershey said Bilbrey would step down on 1 July. Bilbrey will continue as non-executive chairman of Hershey's board of directors following his retirement as president and CEO.
Bilbrey, who has worked for Hershey for 13 years and by the time he retires six as CEO, said he wanted to spend more time with his family.
"Our iconic brands, remarkable employees and commitment to making a difference in the world has made this a difficult decision for me. But now is the right time to begin the process of handing over the reins as CEO as it will allow me to spend more time with my family and wonderful grandchildren," Bilbrey said.
Bilbrey became Hershey CEO in 2011, replacing Dave West who decided to leave after nine years with the business and join Del Monte Foods. Bilbrey joined Hershey in 2003 after a stint at Mission Foods. His career includes positions at Danone's North American waters business and over two decades at Procter & Gamble
"J.P. has been a great leader for The Hershey Company and we are grateful for his unwavering commitment and many contributions to Hershey's success during his 13 years with the company," Pamela Arway, chair of Hershey's governance committee, said.
Arway added: "Succession planning has always been a top priority for our board of directors, and we look forward to an orderly leadership transition. We are confident in J.P. and his leadership team and know they will continue to focus on growing the business while upholding Hershey's great heritage and values as the board conducts a thorough search to identify the right person to lead this company into the future."